10 Ways To Save Money Furniture Shopping
Furnishing a home can be a very expensive endeavor that takes many people by surprise. Just when you have finalized the purchase of your new living space and are beginning to feel the weight of the expense lifted off your shoulders, it dawns on you that you will now need to fill that new house or apartment with furniture and other decor. Many people unfortunately find themselves unprepared or caught off guard by how costly it can be to shop for things like couches, tables, bedroom suites, and the like, so our goal is to offer advice on ways to save money on furniture.
Timing is Everything-
Most furniture stores are known for holding massive sales that offer heavy discounts, but you need to time your visits correctly to benefit from these deals. Oftentimes, the employees working for furniture stores are paid by commission or have quotas that must be met by the end of each month. This means that if you shop toward the end of the month - or even better, near the end of the sales quarter - the salespeople are much more likely to work with you on price in order to make the sale and meet their quota. You don't need to worry about commissions at Northeast Factory Direct. We're able to keep our costs low by not having our employees work on commission. They won't haggle you or coerce you into a deal, because it doesn't benefit them like how it does at other traditional furniture stores.
Big ticket purchases are often eligible for fairly heavy discounts, and for the most part, negotiation is expected and factored into the retail price. If there is nothing they can do, find out if they would be willing sweeten the deal by throwing in a small extra - like free pillows with the purchase of a new bed. Or ask if they would be able to waive the sales tax or delivery charge. A little savings can go a long way when it comes to large furniture purchases - eliminating something like the sales tax could save you a few hundred dollars, depending on the size of your purchase.
Shop on Holidays and Long Weekend
Another good bet is to shop on holiday weekends like Memorial Day or Labor Day. Most furniture stores are known to hold their major sales during these times, when they know people will be off from work and available to shop.
Furniture stores are motivated to make sure you're spending your big bucks on a new couch or dining table rather than a big ticket ski trip, so many of these stores will run their sales during the winter holidays weekends, like Martin Luther King Junior Day or President's Day. Be sure to keep an eye out for big sales and discounts during those time frames.
If your purchase can wait, try timing it around January or July. New showroom displays tend to hit the stores in February and August, which means the stores will need to clear out old stock to make room for the new pieces. This means they might be willing to cut down significantly on price to help get rid of last year's displays.
This applies to almost every single furniture store, but not with us. At Northeast Factory Direct, we don't hold any of those gimmicky "Labor Day Blowout" sales or "President's Day Clear-out" sale that the other places do. Our prices are already the same if not better than the competitor's sale prices. We can do that because we don't have a fancy showroom with high rent, we don't pay our salespeople high commissions, and we buy by the truckload to pass the savings onto you!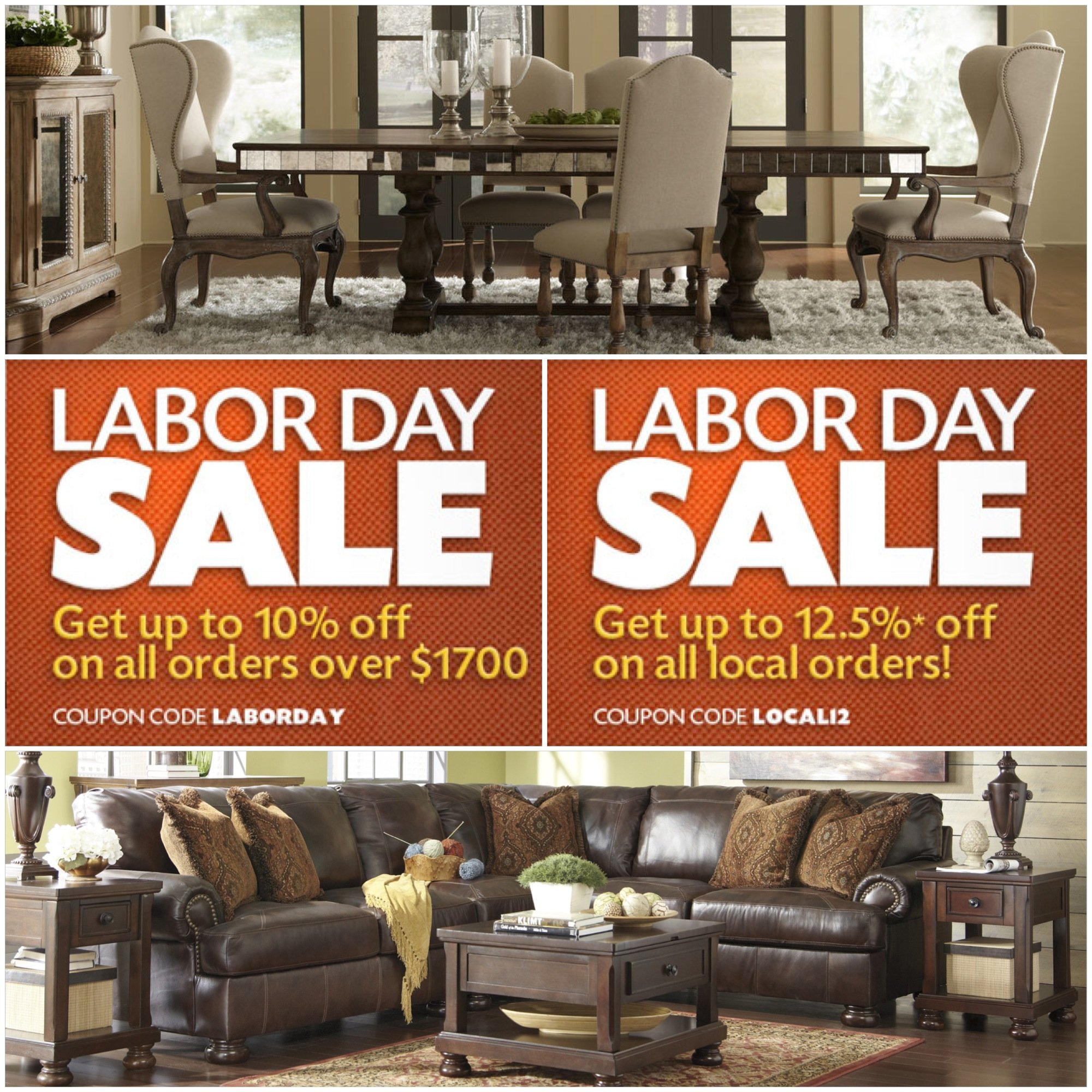 Hone in on What You Want
If you start visiting furniture stores with only a vague idea of what you're looking for, it can be easy to get distracted or overwhelmed when you find yourself surrounded by possibilities. Take some time before you begin your shopping to envision what you want the finished room to look like - would a soft, brown couch look best in your living room, or are you leaning toward white leather? Does your dining space lend itself more to a formal table, or perhaps something more rustic? Do you plan to decorate the whole house today, or are you approaching things one room at a time?
Asking yourself these questions before you hit the stores can help you to narrow down your selection and stay focused. Once you have a general idea of what you're shopping for, visit a few different stores to see what's out there. This will help you familiarize yourself with the level of quality available and how much you can expect to spend. Decide which features are most important to you and which brands speak best to your personal styles and tastes. Ask as many questions as you need in order to feel informed and confident about your decision.
If you find the perfect piece but the price is a bit beyond your budget, write down the name of the manufacturer, the model, and the fabric color, and then shop around for that piece at other stores to compare prices. Don't forget to check online as well.
Check Out the Overstock
Did you know that the furniture on display in the store is only the tip of the iceberg? There's plenty more inventory where that came from! Most furniture stores have local warehouses where the rest of their supply is stored. While you're shopping, be sure to ask an employee if the store ever has warehouse sales. At warehouse sales, furniture stores will open up their full inventory as a way of selling off overstock, returns, floor samples, and slightly scratched or dented furniture, with deep discounts.
If you don't mind buying a floor sample or a piece with slight wear, you can snag some impressive deals at warehouse sales. If there are no warehouse sales coming up, the salespeople should at least be able to direct you toward their store clearance. You don't have to be shy about letting employees know you're on a budget - many people look for discounts when they shop, but the employees have no way of knowing unless you tell them.
Buy Directly from Manufacturers
When you purchase your furniture pieces directly from the manufacturer rather than in a store, you have access to wholesale prices rather than retail prices. If you happen to live near furniture production outlets, these would definitely be worth a visit so you can view the furniture in person. Otherwise, you can always shop online and have the furniture shipped to your home.
Even after shipping costs, it is not uncommon for the wholesale price to be less expensive than what you would pay in a furniture store. If there's a certain catalog company whose furniture you love, do an online search for their outlet store, or check their website for a list of outlet locations to find the one closest to you.
Northeast Factory Direct buys products directly from the manufacturer by the truckload, so our prices can stay as low as possible for the customers.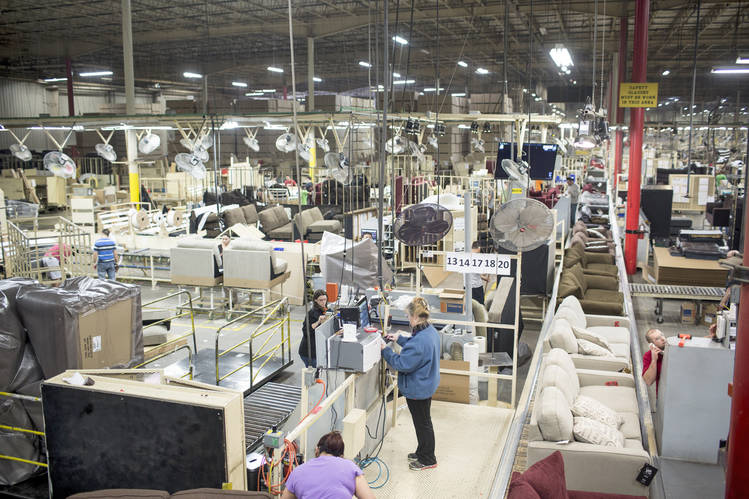 Sign Up for Sales Notifications
If you find an item you really love, but it's over your budget, ask to leave your contact information with the salesperson with a note to give you a call when it goes on sale. Since the employees typically work for commission, there's a pretty good chance they will actually call you when the time comes.
Feel free to let them know your price range and how much you're willing to pay for the item you're interested in. If sales end up being slow for the quarter, it's even possible that the boss might decide to accept your offer, and you'll get a call. It never hurts to be direct and let people know what you want and what you can afford to pay. You might be surprised at the results! You can even ask if there are any similar options at a cheaper price.
If you're shopping online, you can save or "favorite" the items that you like best so that you receive an alert when the price drops or when the item goes on sale. This way, you won't have to remind yourself to keep checking back.
You can sign up for Northeast Factory Direct's e-mail notifications here.
Shop for Pre-Owned Furniture
If you're on a tight budget, there are always second-hand furniture shops, which often have some good finds and really great deals. Check out yard sales, thrift stores, estate sales, consignment shops, and flea markets in your local area. And as much as it may be hit or miss, it never hurts to look on Craigslist to see what people are selling. We at Northeast always post our deals on Craigslist.
You may need to be patient if you have a specific style in mind, but the prices will definitely be reasonable, and there is a lot of room to negotiate in the world of second-hand sales. And if you find the piece you're looking for but it's a bit damaged or worn, a little upholstery or paint can go a long way.
If you're not into buying furniture that has actually been owned by someone before, consider purchasing a floor sample from a furniture store. While floor samples have been tested by prospective buyers in the store, they at least have not been in anyone's home, and they have not endured heavy use by a previous owner. This could be a great middle ground if you're looking for a good deal but aren't comfortable buying someone else's sofa.
Use Discounted Gift Cards
There are plenty of websites that buy gift cards people don't want and then sell them at a discounted rate. If you find the piece you're looking for at a furniture store and calculate the cost including shipping and tax, go ahead and purchase discounted gift cards on a website such as GiftCardGranny. This is a great way to get between 10% and 30% off the retail price without doing anything too difficult, so it's definitely worth a try.
Unfortunately, you won't find any Northeast Factory Direct gift cards on those secondhand websites, but if you're looking to purchase furniture from us, let us know! We'd love to help you out and send a discount your way.
Don't Be Afraid to Negotiate
So many people are too shy or nervous to try to negotiate a good deal when shopping in a furniture store, but this is a perfectly standard and almost expected practice. Salespeople often have both the room and the authority to negotiate ticket prices, and the worst they can do is say no.
If you are buying multiple items, see if they are willing to offer a discount for buying more than one piece at a time, or perhaps they would be willing to throw in something extra. There is usually wiggle room when it comes to big ticket purchases, and most stores expect to be met with at least some degree of negotiation from prospective buyers. At the very least, it never hurts to ask.
Get Cash Back on Your Haul
If you're shopping online, be sure to look at websites and apps that offer cash back on your purchase. If you're not familiar with shopping this way, don't worry - there's an app for that!
The Ibotta app is one of the top ranked apps for earning cash back on typical purchases. Though it is a popular choice for grocery rebates, its powers extend far beyond the supermarket. In fact, there are many online retailers that partner with Ibotta, and your furniture store may be one of them.
Another bargain website to check out is Ebates, which is very user friendly. You can add the Ebates icon to your homepage so that when you're shopping, all you have to do is click the icon to see what cash back deals are available through that retailer. There is no paperwork or stress involved - when you make a purchase through the Ebates link, it will automatically be recognized and your account will be credited accordingly.
Additionally, some credit cards are willing to offer cash back if you spend a certain dollar amount within the first few months of opening your account. When you're making big purchases like furniture, it is no problem to spend $500 in the first two months, or whatever the quota might be. And depending on the offer, this might entitle you to $100 or more in cash back rewards, which you can then put back into the purchase. It's like getting another $100 off the final price.
Overall, whether you're moving and decorating a brand new space, or whether you're just looking to spruce up your home and give yourself a change of scenery, you don't need to break the bank on furniture. When shopping for furniture, there are plenty of great ways to save money. One of the easiest ways to save is by shopping with us! You'll always pay at Northeast a fraction of what you would pay anywhere else. So why go any place other than Northeast Factory Direct.