Sofas for Small Living Rooms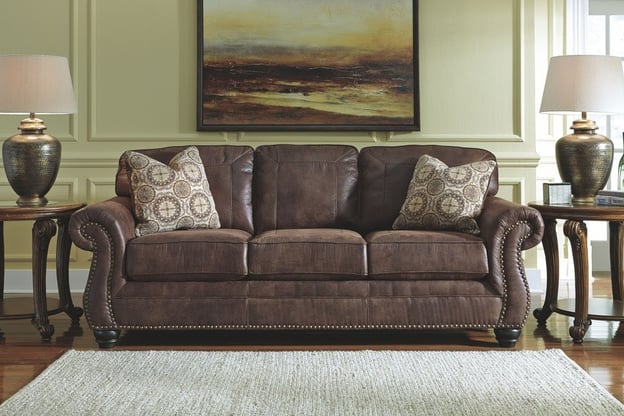 When shopping for a sofa, it can be difficult to choose one if you have a small living room. At Northeast Factory Direct in Cleveland, we help you find the best style and size!
A few things need to be done on your end first, before purchasing. Read on to find out how to buy sofas for small living rooms.
Size Up Your Space:
First do some easy measurements. This aids you in the elimination process and makes buying a sofa in Cleveland easier. Secondly, decide how much seating space you want. Lastly, pick the design that goes well with your décor.
Legs or No Legs:
Most people don't think about what sofa legs can do for your home. When you are buying sofas for small living rooms or apartment-style living, it is important to think about the floor. Here are four examples of why legs on a sofa are important:
When your sofa has no legs, it sits on the floor and gives the illusion that your floor ends at the sofa.


No legs on a sofa makes the room seem smaller and too stationary.


A sofa with legs gives the untrained eye to see the free-flowing floor beneath it, making your space seem larger.
The higher the legs the better. It is not only aesthetically appealing but also widens your living area.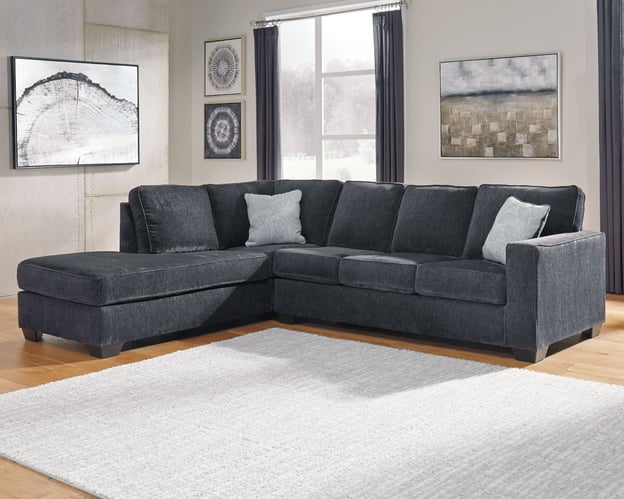 Sectionals for Small Living Rooms:
Most believe when you buy a sectional it takes up too much space and cannot be the "right" sofa for small living.
A good example of the perfect small living sectional is an 'L-shaped' with a footrest. These are smaller sectionals but still can be configured to fit a longer wall. They also come with long legs which make your room look larger.
Another great sectional option is a compact sectional with storage. This type has legs, but normally comes with a detached ottoman. Being able to move pieces around can give the illusion of a larger living area.
Sleeper Sofa or Loveseat:
Often, when buying sofas for small living rooms, most opt for a loveseat or sleeper sofa. What is the difference between the two? And can they save space?
Sleeper Sofa:
Saves Space
Convenient for Company
Lower Cost
Little to No Upkeep
Love Seat Sofa:
Small but the Upholstery is Plush
Unique Fabric Choices
Two or Three Person Seating (but no bed)
Smaller Legs but No Floor Contact
These are just a few ideas on how to buy sofas for small living rooms.
When you have a small living room, you need to find inspiration wherever you can. Sometimes the easiest way to transform your tiny room into a larger-than-life area is pillows.
The armless couch is the ultimate cozy space-saving sofa! The best option for this sofa is pillows and geometric fabric design. Also known as the click-clack couch for its universal uses. Dress it up with pillows and it's a sofa. If you have company stay over it can be used as a bed.
Pros and Cons of a Storage Sofa:
A storage sofa is popular in small living areas. It gives the illusion of a larger space and has a place to store your items when visitors come over.
Pros to opting for a storage sofa include:
1. The obvious, more storage
2. Seats two to three people
3. Cozy and normally has a footstool with lid for more storage
Cons would be:
Smaller legs so it sits closer to the floor
Depending on the size of the sofa, you may not have ENOUGH storage space
They are compact, which may not be as comfortable as other options.
Popular Sofa Designs:
If you are open to different fabrics and designs, read through the list of what's trending for sofas!
Stripes
Tufted Fabrics
Geometric Squares/Circles
Velvet (yes, it's back!)
Bright Colors (Orange, Mint Green, Sea Blue) 6. Leather (or Faux)
Who Are You Seating?
Knowing the size of the sofa is important for your social life. Do you have many visitors? Do you want ample seating space or more floor space? These questions need to be figured out before making a sofa purchase.
Note that there are several options to choose from when finding a sofa for a small living room. Where you purchase from makes a difference!
Northeast Factory Direct:
When you are looking for the perfect sofa, Northeast Factory Direct is a great choice! Not only do we have tons of inventory to choose from, but our online buying experience has been proven through high-ranking reviews.
Making The Purchase:
Deciding to buy from a factory direct store not only can give you peace of mind. It can also make your buying experience much better.
The unique search options make it easy to find the right size, shape, style, and design for your sofa. Once you know what you want from your space, it is easy to find it online at Northeast Factory Direct.
Prices range from $500 to $1k and this includes a warranty that comes with each sofa, making you feel more comfortable with your purchase.
Whether you are buying a corner sofa, storage sofa, or quaint sectional for your small living room, Factory Direct has the products you are looking for. The best feature is being able to customize your sofa!
Visit us online to look at all of our options. Happy (Small) Sofa Shopping!