How To Place A Rug In Your Living Room
Whether you're decorating a new living room or just doing a little redecorating, a rug can really bring your space together.
The best rugs bring cohesion to your living space, creating conversation among every design element.
To avoid discovering that your rug isn't quite as perfect a fit as you hoped, we've put together this guide to placing a rug in your living room.

Rug Sizes
The size of your rug really depends on the size of your living room and your seating.
The most common area rug sizes are 5′ x 8′, 8′ x 10′, and 9′ x 12′, with most living rooms best suited to at least an 8' x 10' rug.
Have large pieces of furniture but don't want to line your sectional or sofa against the wall?
Overstock suggests orienting your rug with the shape of the room to create some visual flow.
Also, you want an equal amount of space around all sides of your rug, at least a foot on either side of your sofa.
Anywhere from 8 to 24 inches of exposed flooring between the outer edges of the rug and wall is ideal.

Centering the Rug
Don't just assume that your rug belongs in the center of the room.
This can create a lot of awkward empty space, especially if your living room is an unconventional shape.
When placing a rug in a living room, you want to place it so that it compliments the dominant furniture and existing layout of the room.
The only centering you should be doing is centering your furniture around the outside of your rug.
For example, if you have two sofas, center your area rug at an equal distance between them.
Likewise, if you have a sectional or a modular sofa, make sure the rug is large enough that it doesn't fall short on either side.

Rug Arrangements
There are only a handful of recommended arrangements when it comes to placing a rug in a living room.
While you can adapt each setup to any room, some are more influenced by room size than others.
Here's a quick breakdown of each style to help you get started.

All Legs Off
Need a budget-friendly arrangement for a smaller room?
Centering a small rug in front of your living room furniture will do the trick.
By keeping all of the furniture legs off of your run, you create this feeling of openness that benefits a small living room.
Not only will this distract from the smaller space, but it will help your rug stand out, making it the focal point of the room.

Front Legs On
If you don't quite have the space for a large rug but you have a bit more room to play with, cheat by tucking the rug under the front legs of all your furniture.
This will allow you to adjust for a smaller space while grounding the room for a cohesive, organized feel.
Just remember that your rug should extend past each end of your sofa or couch.
Pro Tip: You can achieve a similar style by placing smaller pieces, like chairs, fully on the rug.

All Legs On
If you've got the room, a large rug that can fit all the legs of your couch or sofa will create a designated living space.
Make sure you keep anywhere from a foot to a few inches between your furniture and the edge of the rug.
This arrangement works best in large, open-plan rooms and spaces and homes with more than one sofa.
By placing all of your furniture on a large rug, you zone the space and organize a designated seating area, distinct from the rest of your home.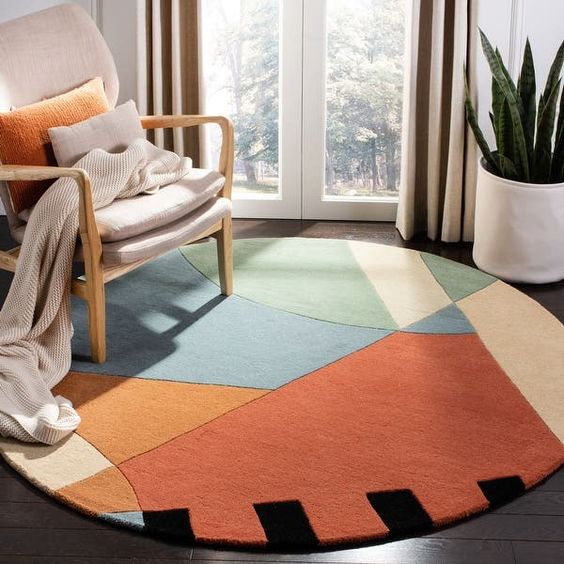 From Overstock on Pinterest
Rounded Arrangement
Traditional rugs are for squares, right?
Why conform to the traditional, on-off placements of rugs when you can turn things around with a circular rug?
A large round rug with your seating arranged along the outside can create a distinct, unconventional space with some style.
Try alternating between one leg on to completely off, as you please.
Don't Lounge Just Yet
Placing a rug in a living room doesn't have to be complicated.
We hope that this guide brought you one step closer to finishing your living room update.
If we missed anything, or you think there's a better way of placing a rug, let us know in the comments below.
Popular Articles For How to Place a Rug in a Living Room