5 Things To Consider When Choosing The Perfect Living Room Sectional
When it comes to your living room furniture, having comfortable seating is key to enjoying this space.
If you're looking for the perfect living room sectional, we have some tips to help you find the right option for you.
Visit our living room furniture store in Cleveland to find a fabulous selection of beautiful, comfortable sectionals, living room chairs, and more.
Check out this list of five things to keep in mind, so that you can find the living room sectional you'll love for years to come.
1. Start with the Size
Sectionals are larger than traditional sofas, so it's absolutely crucial to ensure that you have ample room in your home for this furniture.
Start by measuring the size of your living room, making a note of its length and width.
This will help to serve as a template or a guideline when you're picking out your new sectional.
Another great tip is to "draw" an outline on your floor with painter's tape to get an idea of where the sectional will go, and how large it should or can be.
Measure the guide on your floor, then choose a sectional that will easily fit within those dimensions.
If you're considering a reclining sectional, remember that you'll need even more floor space.
This living room furniture goes back, so you'll need at least a few extra feet behind it to make some room.
You also won't have space for a coffee table to place in front if you choose a reclining sectional, so keep that in mind, too.
Remember to leave plenty of room between your sectional and the wall as well as between the sectional and other pieces of furniture.
This will ensure that there's ample room for people to get up and walk around without bumping into the furniture (or your other guests).
It's also important to choose a sectional size that won't make your living space look or feel overcrowded, so keep that in mind as well.
2. The Perfect Living Room Sectional: Shape
Sectionals don't just come in a linear shape.
In fact, many models are modular, which means you can pick several sections out separately to create your very own custom configuration.
You'll also find U-shaped or curved sectionals, too.
This shape is great if you want to create a more intimate conversation area.
Sectionals with a chaise on one side are also quite popular.
This option gives you a place to stretch out and take a nap or just relax with your legs lying fully stretched out in front of you.
Visit our living room furniture store in Cleveland to check out a variety of sectional shapes.
It's a great way to visualize how it will look in your own home, and how well it will accommodate your guests.
An L-shaped sectional works well in the corner of your living room. These sectionals can be left or right-facing, so pay close attention to that when you're looking at different designs.
Remember to choose a shape that won't block a hallway or a doorway when you bring it into your living room.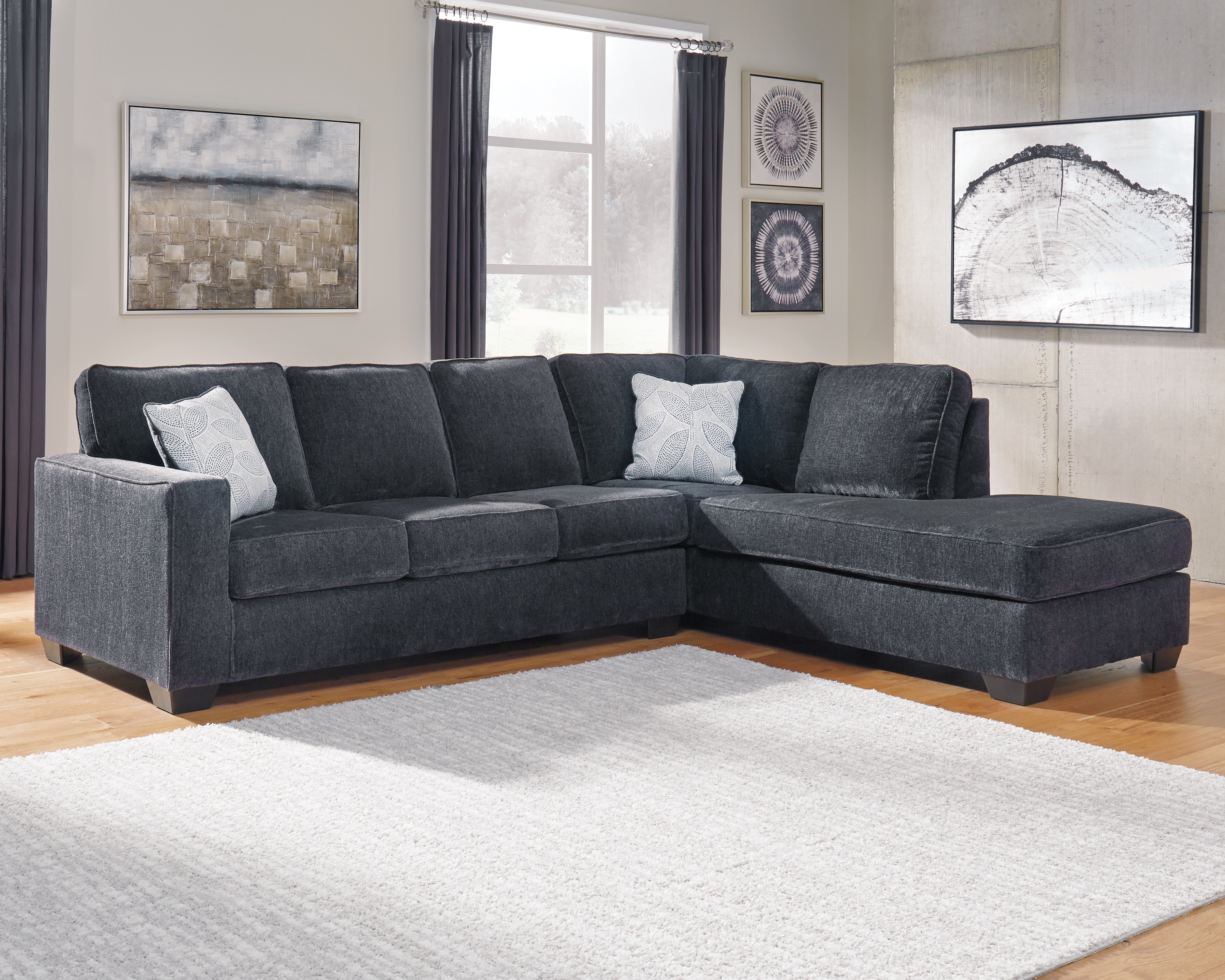 3. Furniture that Fits Your Style
Whether you're looking for new dining room, bedroom, or living room furniture, it's always important to make sure that it matches your favorite style.
Visit our showroom or browse our website to come up with a list of sectionals that speak to you.
Not everyone enjoys modern furniture, and some people prefer contemporary pieces to classics.
It all comes down to the materials, the color, and the silhouette when you're choosing the perfect living room sectional to suit your personality.
The sectional doesn't have to match the rest of your living room furniture exactly, but it should at least be in a fairly similar style so that everything looks cohesive.
Remember that you can always add a pop of color or contrast with decorative pillows and throw blankets.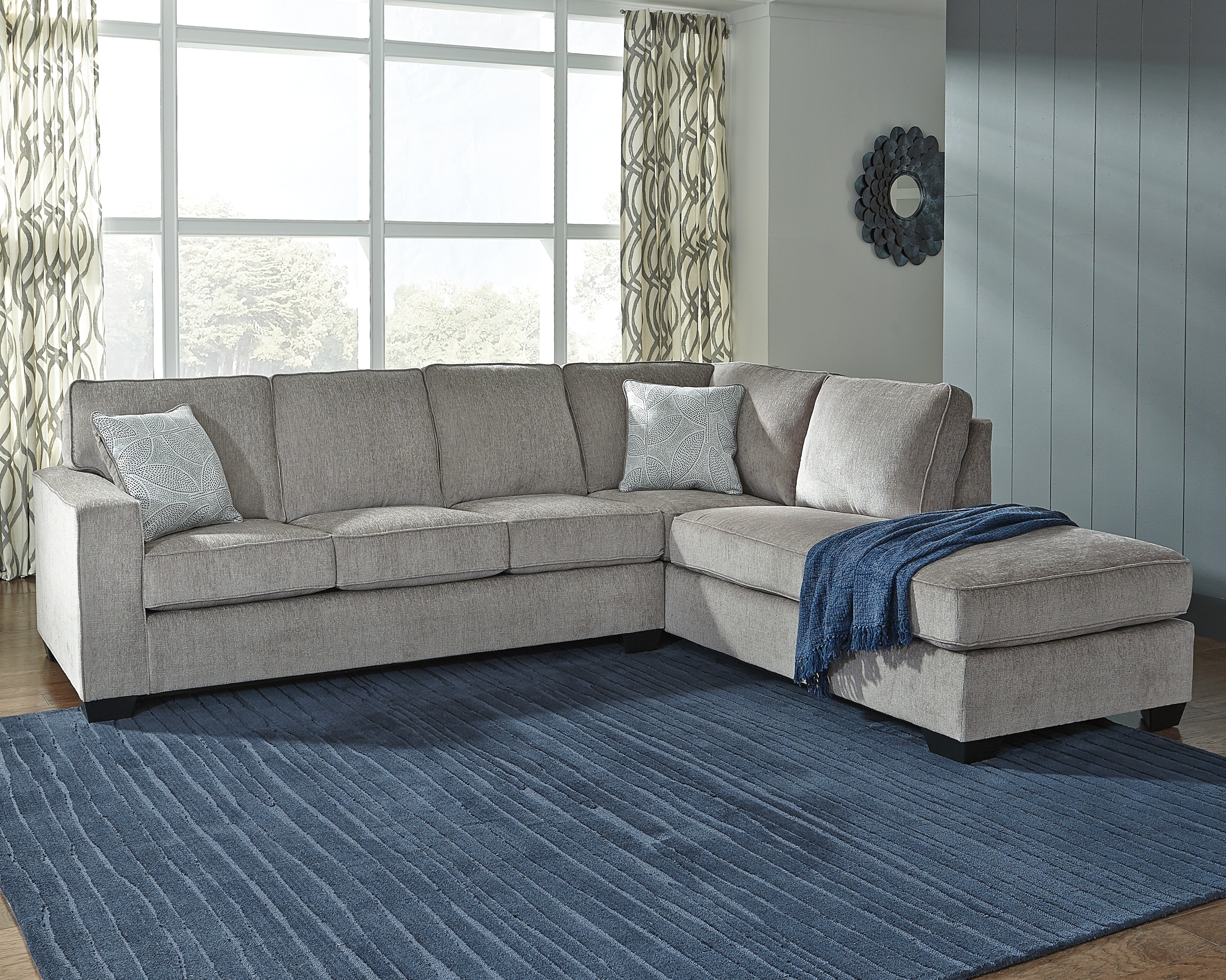 4. Furniture Materials and Upholstery
Perhaps one of the most important factors to consider when you're looking for the perfect living room sectional is the materials it's made of.
Always look for furniture made using high-quality, durable materials.
Sectionals with a solid hardwood frame will last you much longer than something made using cheaper, more flimsy materials like plywood.
The same goes for the cushions on your sectional.
Choose furniture featuring memory foam cushions, or that has cushions using stainless steel springs, so they hold their shape over the years.
As for the upholstery, the options are endless.
Leather sectionals not only look beautiful, but this material tends to hold up quite well over time.
Leather is easy to clean, resists tearing, and can handle lots of wear and tear if you have a home with pets or kids.
Fabric upholstery is soft to the touch and comes in a lot more colors. If you're going for a modern living room, consider a sectional with lush velvet upholstery in a bold, dramatic color.
Microfiber is another good option for busy households since it's fairly easy to clean.
You can choose a faux leather material like vinyl, but keep in mind that it won't hold up as long as the real thing.
Vinyl also tends to fade and crack when it's exposed to too much direct sunlight.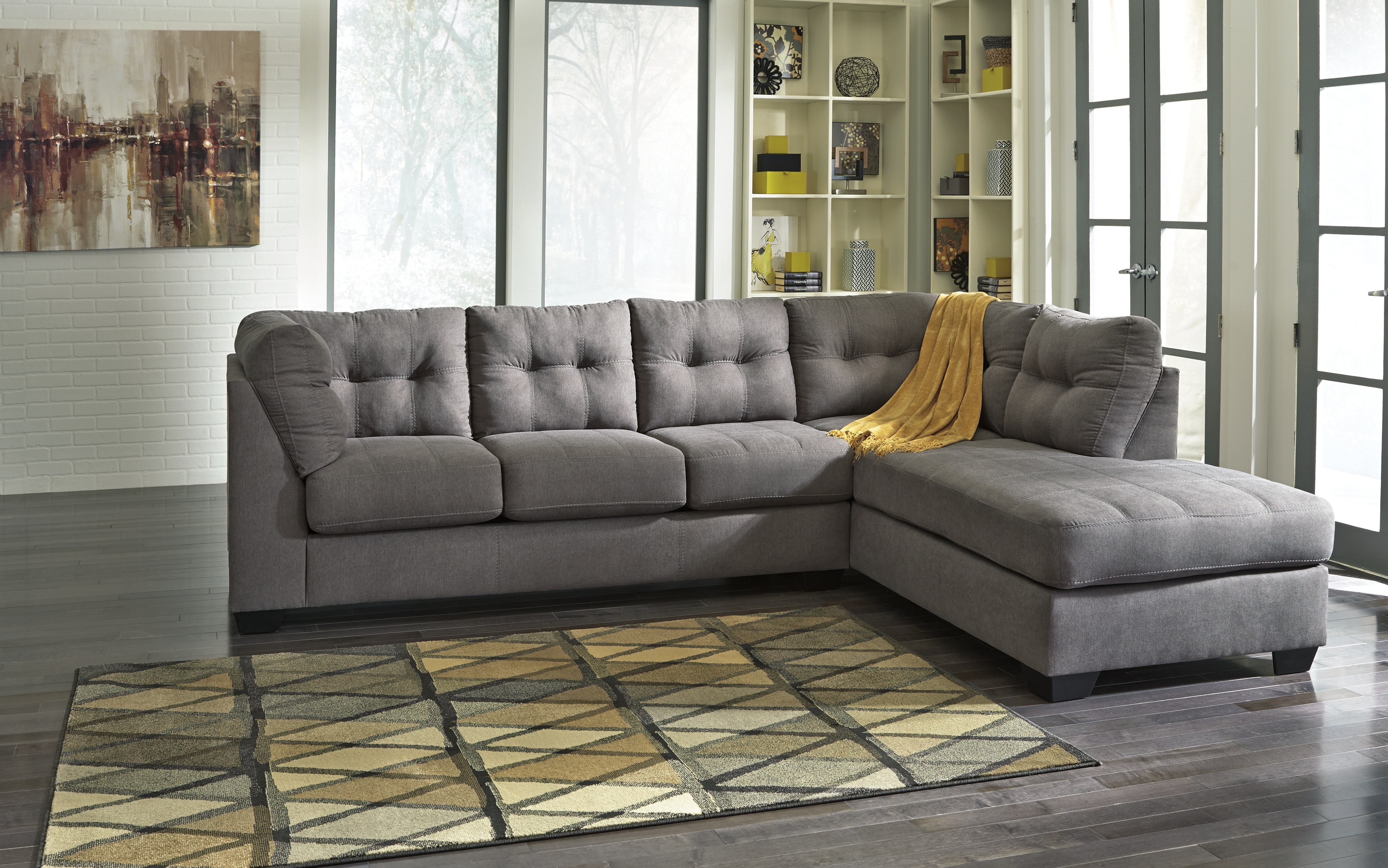 5. Features and Functionality
No matter what type of furniture you're looking for, it's always best to remember how you plan to use it.
For example, are you planning to have lots of guests over often to watch TV or movies?
If so, then you want to be sure that your new sectional is roomy enough for a lot of guests and that it's comfortable.
A reclining sectional is great for entertaining and can double as home theater seating, too.
Some of the sectionals at our living room furniture store in Cleveland include additional features like center consoles that serve as convenient cup holders.
It's a great way to hold onto your drink, especially if you don't have the extra space for some end tables or a coffee table.
When it comes to kicking back and relaxing, try a sectional with a motorized recliner.
This option makes it extremely easy to kick back and relax with just a quick push of a button.
Manual recliners are also great, but they can be a bit more difficult to operate.
A sectional with a power headrest and power lumbar support is definitely the ultimate option for true relaxation in the living room.
It's also important to look at the rest of your furniture and see how the sectional fits in.
Compare the style and color to other items in the room, like living room chairs and tables, so everything fits seamlessly into the space.