How to Decorate a Long Narrow Living Room
Is your living room a hallway?

No?

It's just really long and narrow, so it gives off the vibe of a hallway.

Well, it doesn't have to.

In this guide, we share how to decorate a long narrow living room, transforming your hallway into a cozy living space.
Furniture arrangements
The way you arrange your furniture in your long narrow living room can change the perception of the shape of the space.
Plus It sets the foundation for the room and the rest of your decor going forward.

Here are a few different arrangements for long narrow living rooms.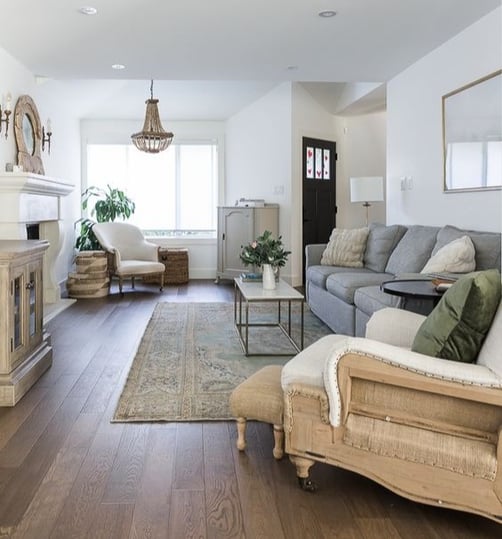 Courtesy of decorsteals.com on Pinterest
The Straight Pathway
Pushing all of your furniture up against your walls might be your first instinct when decorating a long narrow living room.
But this tactic works against you, as it emphasizes the length of your space.
Instead, thespruce.com suggests pulling your furniture out and away from the wall.
Then, arrange your seating in the center of the room underneath a light.
This creates a cozy central space with footpaths on either side.
Easily achieve this look with a sectional or a combo of a sofa opposite two chairs for an intimate seating arrangement.
If you don't like your furniture in the middle of the room, apartmenttherapy.com suggests pushing it up against the wall underneath a window or piece of wall art.
BONUS TIP: Arrange your furniture cross-wise to give your living room a wider appearance.

Courtesy of patticakewagner.com on Pinterest
The Curved Pathway
While the straight pathway does make traversal convenient, it can accentuate the length of the room.
Break up a long narrow living room by arranging furniture in a curved path.
To achieve this illusion, use your furniture to divide your space into two separate seating zones.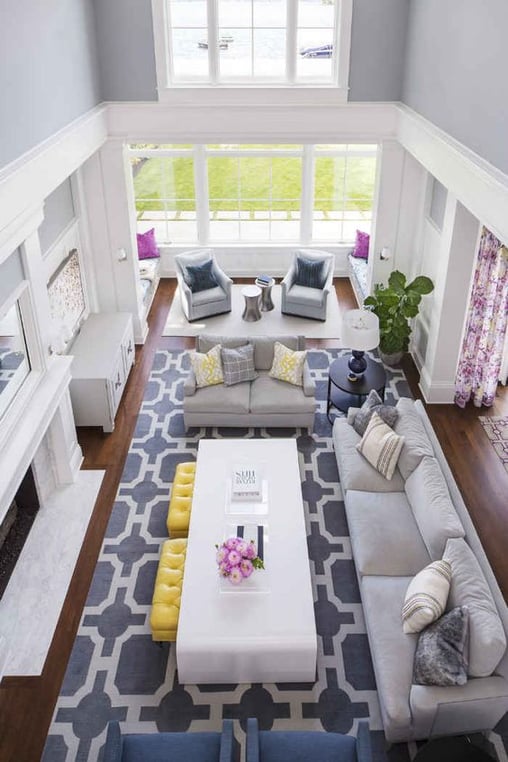 Courtesy of decorsteals.com on Pinterest
S
eparate the Space
Instead of decorating one long, narrow living room, separate the space into two different conversation areas.
These could be:
By segmenting the space into U and L furniture arrangements you guide foot traffic into an arc.
This negates the hallway feeling that long-living rooms can have while making more use of the available space.
BONUS TIP: You can also zone these separate areas with rugs, lights, and color, making it feel intentional.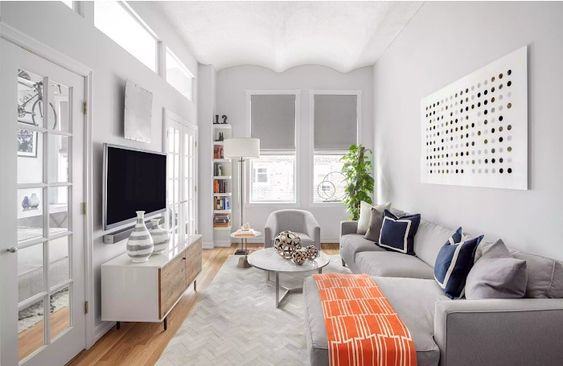 Courtesy of settingforfour.com on Pinterest
Decorating a Long Narrow Living Room
Now that you have your larger pieces arranged in your long, narrow living room, you're ready to decorate!
Here are a few tips for using your decor to reduce the visual length of your living room.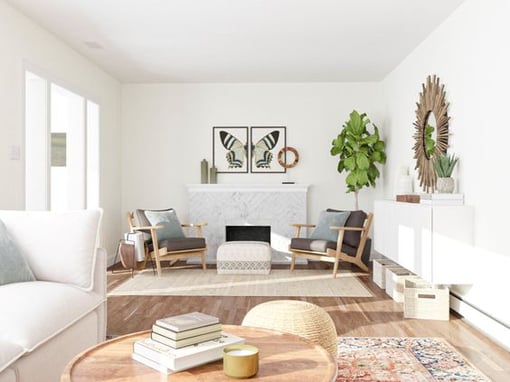 Courtesy of modsy.com on Pinterest
Recommended Round Pieces
A long narrow living room is essentially a big rectangle.
That's painfully obvious when staring from across the room.
To help counter long horizontal lines, thespruce.com recommends using circular pieces with soft edges.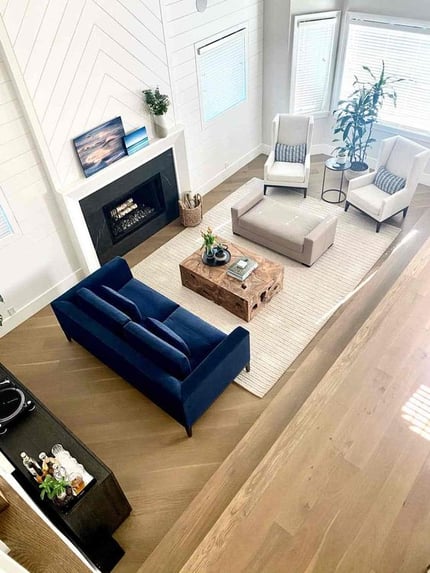 Courtesy of classiccasualhome.com on Pinterest
Rely on Rugs
Striped area rugs are a great way to make your living room look and feel wider than it really is.
If a striped rug isn't your style, use other styles to define distinct areas we mentioned earlier.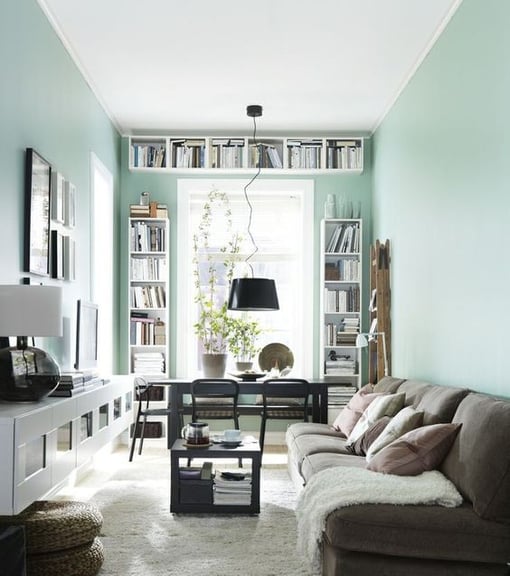 Courtesy of decorsteals.com on Pinterest
Space Saving Shelves
You can only put so many items across the width of your narrow living room.
We're no stranger to decorating small spaces, and floating shelves are a great way to save floor space.
As we mentioned in how to decorate around a tv, floating shelves can help decorate your living room.
They're excellent tools for providing additional storage without taking up any precious floor space.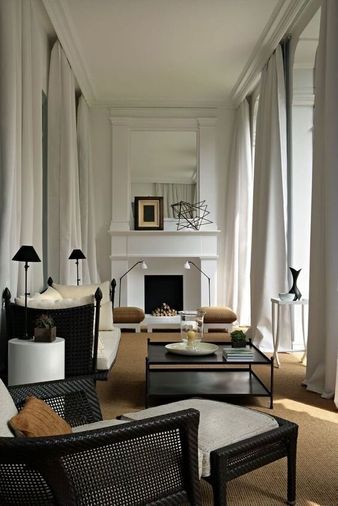 Courtesy of thesavvyheart.com on Pinterest
Maximize Vertical Space
Drawing the eye upward will take the focus away from how narrow your living room is. You can do this in several ways.
A tall armoire or bookshelf will point towards your ceiling while also adding additional storage.
Homedesignlover.com suggests breaking up your horizontal space with an array of photos, artwork, and mirrors.
This helps define specific spaces within your living room, and reflective surfaces will bounce natural light, making it feel larger.
Add floor-to-ceiling drapery with vertical stripes to create the illusion of height, and you should be good to go.
Now It's Your Turn
There you have it, how to decorate a long narrow living room.
Hopefully, you're more confident in transforming your space from a hallway into a hallmark of a cozy, stylish living room.
Will you be organizing your living room into a straight pathway or a curved pathway? How did you design your sections?
Let us know which tip you're going to use on your long narrow living room in the comments below!