How To Decorate Around A TV
Ironically, decorating around your tv is not as black and white as you'd expect.
How and where your TV is placed can change your tactics and options when decorating around your TV.
To help make the process a whole lot simpler, we've curated this guide for how to decorate around a TV Stand.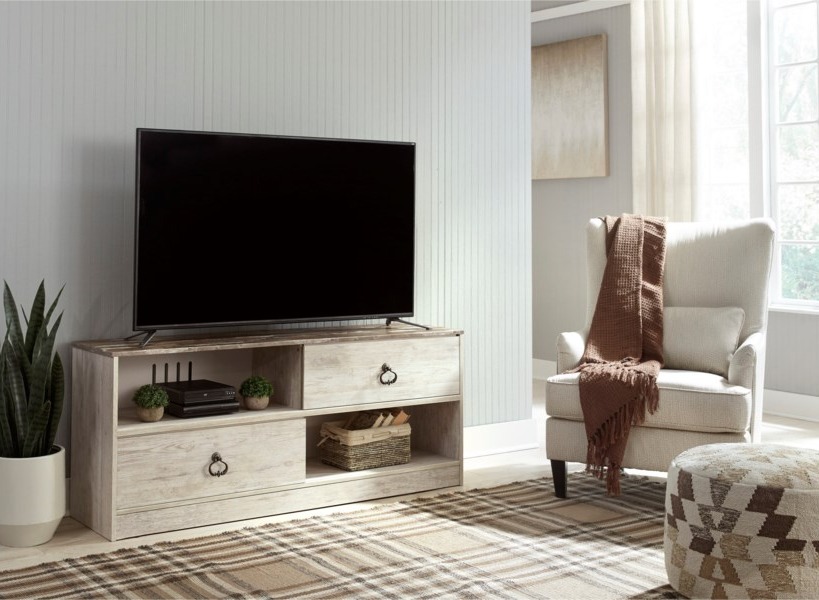 How To Decorate Around A TV On A Large Wall
Whether your TV is mounted to the back wall, above your fireplace, or to your built-in, these decor tips can help you tie it all together.
Keeping Things Simple
Keeping the wall behind your TV clear prevents it from becoming your focal point, enabling you to draw attention to the bolder items in your living room.
This way, you can show off a colorful rug, bold sectional, or your console.
But if you're adamant about having some decor, keep it to a minimum.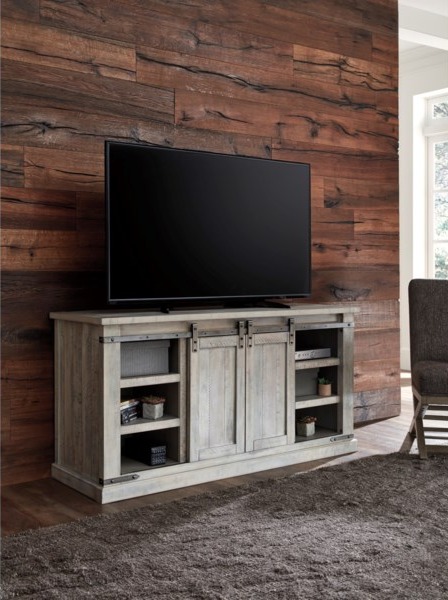 Accent wall
Whatever your style, you can't go wrong with an accent wall.
Forgo the blank white walls and paint the wall behind your TV a different color.
Hayneedle.com recommends using a dark neutral color — black, dark grey, navy — to create a focal point for your living room and to help blend the TV into the wall.
Bonus Tip: If you don't want to break out the paint, you can place wallpaper behind your tv to include fun designs and colors.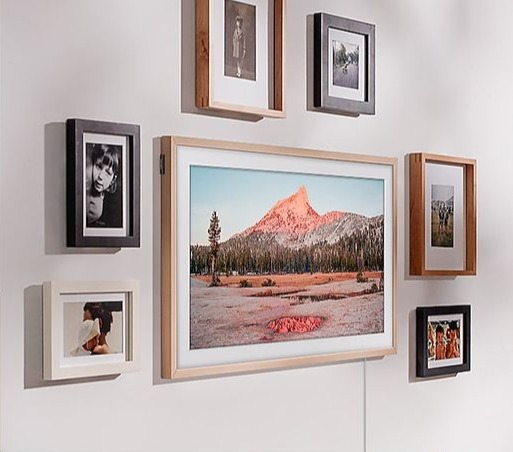 Courtesy of Kensington House Design on Pinterest
TV Frames
If painting your wall isn't an option, but the cold black of the TV clashes with the rest of your living room, a TV frame can help.
A decent frame can even transform your TV into an artistic piece.
By softening the edges of your TV, a frame helps transition between your TV and the living room.
For example, twelveonmain.com suggests that if you have a rustic or farmhouse-style living room, a wooden frame reduces the contrast between the TV and your walls.
Bonus Tip: Use a pair of wall sconces (or lamps on the stand below) on either side of the TV to serve as a soft TV frame.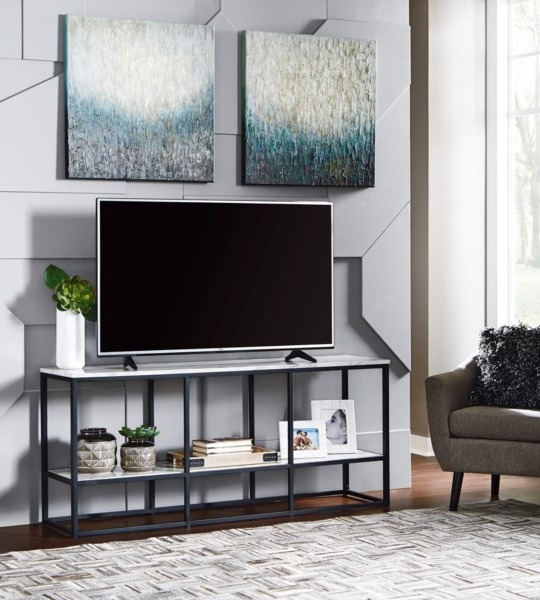 Gallery Wall
Whether you're using a frame or not, arranging images and photos into a gallery wall is a popular option when it comes to decorating around a TV.
For a simple design theme, apartmenttherapy.com suggests arranging black and white photos and frames on a white wall around your TV for a relaxed yet organized look.
This will help connect your TV to the other elements within the room.
In contrast, employ colorful art featured in different style frames for an eclectic look.
If your tv comes in a wooden frame, blend it in with the wall to look like another piece of art.
Bonus Tip: Tuftandtrim.com recommends adding some shape variety to your gallery wall with a round clock or mirror.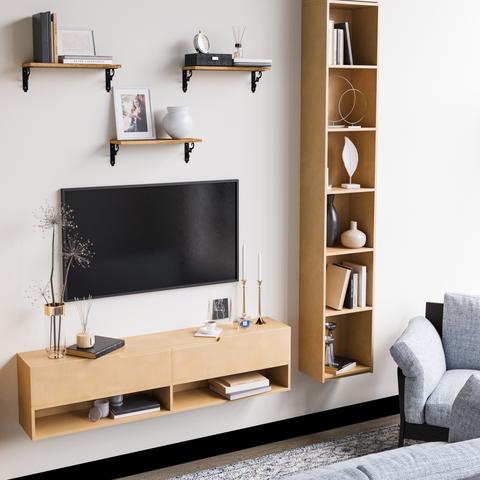 Courtesy of Wallniture.com on Pinterest
Shelves
Perfect for a streamlined, minimalist style, floating shelves are another smart way to decorate around a TV.
Blesserhouse.com suggests installing a single large shelf across the top and two to three shorter shelves stacked on either side, to mimic a built-in entertainment center.
Then feel free to decorate them with an arrangement of plants, pictures, photos, art, and statement pieces.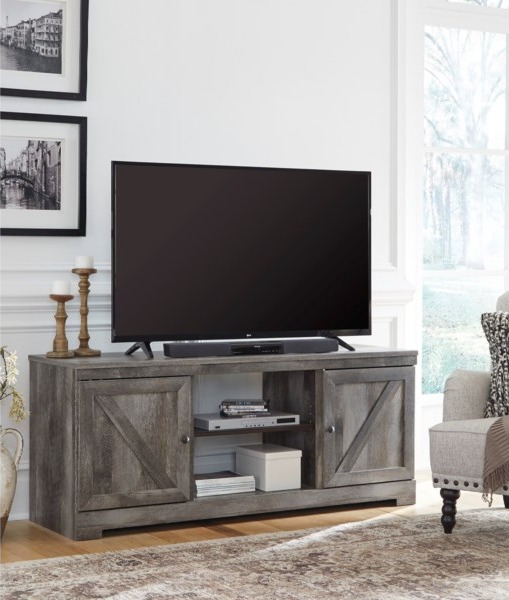 How To Decorate Around a TV Stand
Whether your TV is mounted to the wall or to the stand itself, TV stands and their equivalents are a core component of decorating around your TV.
TV Furniture
Many different pieces can host your tv, but choosing the right TV stand for you depends on several factors.
If you have a smaller living room, a small dresser, side table, or corner stand can save you plenty of space.
Models that feature open shelving are ideal for small stacks of books and succulents.
Average size TV stands often come in modern and traditional styles.
Modern TV stands feature open shelving, while traditional stands include more drawers and cupboards — perfect for hiding electronics.
However you decide to decorate your tv stand, make sure the items have a throughline that ties in with the rest of the room, and group items in threes.
Bonus Tip: Console tables are a great alternative to TV stands because they take up less floor space and are easier to swap out as home design trends change.
Place it under your wall-mounted tv and top it with your favorite decor items.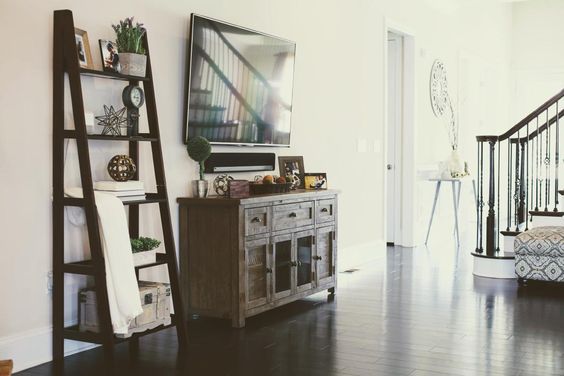 Courtesy of drawbuildplay.com on Pinterest
Stand Around
Not every decor piece needs to live on your TV stand.
Populate the sides of your stand with taller items to add varying heights to your living room.
A tall mirror, blanket ladder, floor lamp (great for living rooms with no overhead lighting), and large plants are great options.
Whichever selection you make, ensure they're taller than your TV to limit the contrast between it and the rest of your room.
Now It's Your Turn
Wherever your TV is in your living room, there's plenty of ways to tastefully blend it into your decor.
Hopefully, this guide made the decorating process much easier.
Leave a comment letting us know which tips you used when decorating around your TV at home.