13 Bright Ideas for Living Rooms with No Overhead Lighting
From Pottery Barn on PinterestOur living rooms serve as gathering places, reading spots, TV binge zones and so much more.

Striking the right balance of lighting to serve all of those needs is challenging enough.

Trying to light your living room with no overhead lighting can really put a damper on things.

But, it is possible, and not as hard as you'd think.

Here are 13 ways to light a living room with no overhead lighting.


Natural Lighting
The first step in lighting any space is maximizing your natural light.
Don't worry. There's no need to make a new window.
Simply swapping dark curtains for lighter colors and fabrics will invite more light into the room.
Also, if it's been a while, it's worth giving your windows a good cleaning.
The dust and dirt that builds up over time trap a lot of light.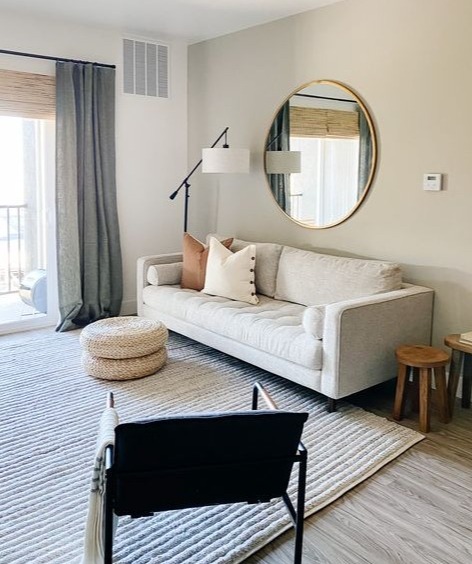 Reflect Natural Light
Natural light is the ideal way to brighten your living room during the day.
But, depending on how many windows you have, there might only be so much to play with.
Make the most of your natural light by using reflective surfaces to bounce it around your living room.
Mirrors
Not every space is blessed with a whole lot of natural light.
Yes, I'm talking about you, apartment with windows on only one side.
Mirrors are a great tool to maximize the amount of natural light in your living room.
Place a mirror (or a few) across from a natural light source.
Not only will these help bounce light around during the day, but they'll also help you direct light from fixtures after the sun goes down.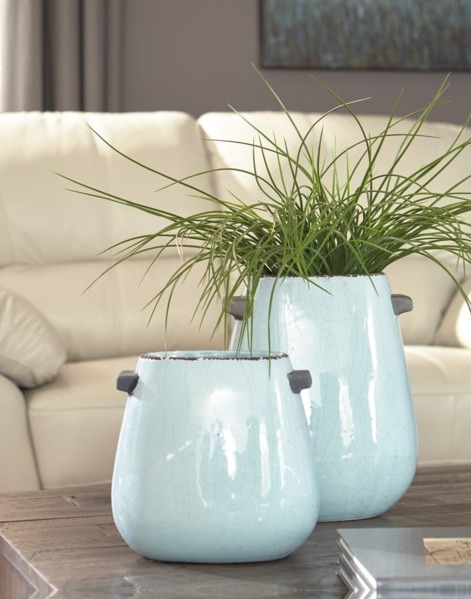 Reflective Vases, Bowls, and More
Mirrors aren't the only accessory that can help brighten a room.
Dance light around the walls with a crystal suncatcher.
Glance rays off the metallic vase on your end table.
Watch the colors pool on your coffee table from the glass bowl filled with warm stones and shells.
These items will help redirect natural light throughout your living room in small ways that can add texture to your space.

Light Fixtures
While natural light is fantastic, there's only so much you can do with it.
Eventually, the sun goes down and you'll need another light source.
These light fixtures and items offer a variety of approaches that you may not have considered.
We'll even offer some overhead options to illuminate your living room.

Floor Lamps
After you've exhausted your natural lighting, try experimenting with floor lamps.
They come in a variety of shapes and sizes, making it easy to add light sources to any dim corner.

Arc Lamps
If you still want the feel of overhead lighting in a specific area, then a large arc lamp is your best bet.
Place an arc lamp over a chair or the corner of a sectional to create a snug reading space!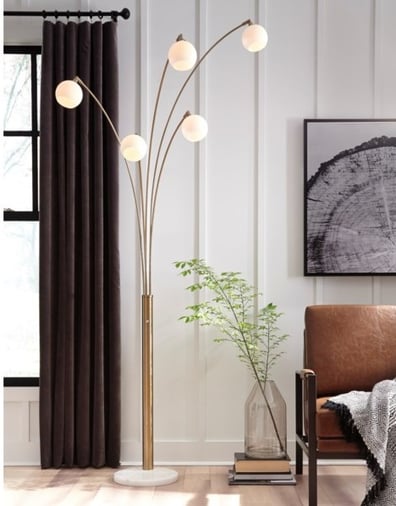 Tree Lamps
Adding a tree floor lamp to your living room grants you more lighting and more control over that lighting.
If you need more focused lighting in your living room than your average floor lamp, give a tree lamp a try.

Table Lamps
Table lamps are another valuable resource for room lighting.
Small pools of light in select spaces allow you to direct the light where it is most needed.
Try combining table lamps of different sizes to add visual variety as well as light.
Using different lampshades can also help you control where light is thrown, its intensity, and tone.
If you've got a spot that's perfect for a table lamp, but far from any outlets, try a battery-powered lamp to add some sleek lighting without wiring.

From Pottery Barn on Pinterest
Wall Sconces & Lamps
If the perimeter of your living room needs some light, but you don't want to tuck a giant lamp in the corner, wall sconces and lamps are a great alternative.
Plug-in wall sconces are affordable and easy to install since they don't need any rewiring. Some even offer cloth or metal cords to keep things tidy.
Wall lights come in a variety of shapes, sizes, and shades to accent your space.

Hanging Lamps & Pendants
If the floor and table lamps still have you wishing for overhead lighting, a plug-in pendant or statement bulb is your best bet.
From ornate chandeliers to simple bulbs, there's a variety of stylish lighting fixtures to help you achieve your desired look.
Most pendant lights come with a long cord that can be swagged back to the wall and the nearest outlet.
All that's needed, assuming your landlord is cool with it, is to install a simple hook to hang the fixture and then a second hook to catch the cord.
From there, you can run the rest of the cable tightly along the wall and tuck it away.
Worried about unsightly cords?
Like the wall sconces we mentioned earlier, you can get pendants with cloth or colored cords to help it blend more easily into the background.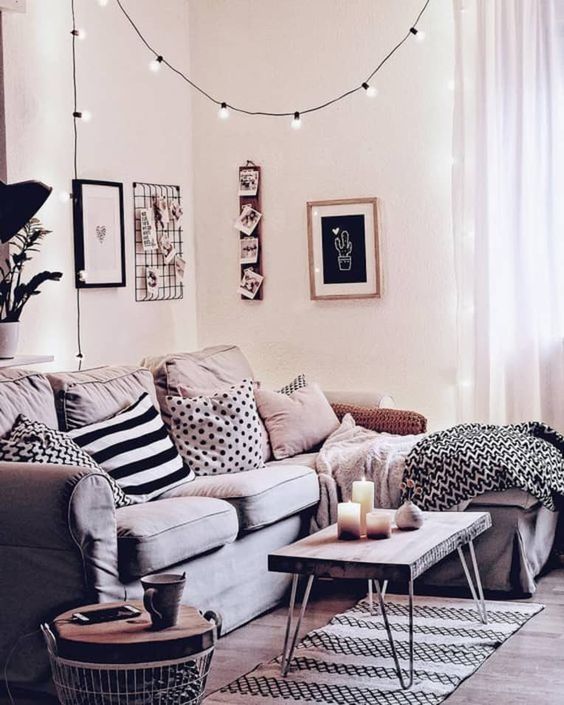 From Apartment Therapy on Pinterest
Hanging String Lights
If you're looking to spread your light source over a larger area, try hanging some string lights.
Despite their size and affordability, string lights can be surprisingly powerful.
They're incredibly lightweight, so all you have to do is screw a few hooks into your ceiling or wall and drape them across.
Drawing the eye from one light to the next, string lights excel at crafting a cozy, dreamy ambiance to your living room.
From IKEA on Pinterest
Led Strips
If string lights aren't really your thing, but you like their versatility, give LED strips a try.
They're fairly inexpensive, but can be a little tricky to install.
People usually tuck these into the grooves between their ceilings and the wall or under cabinets or shelves.
They come in a variety of colors, and you can even place some colored film over them to change their glow.
LED strips come in plug-in and battery-powered varieties, but since they're designed to stick to a wall, replacing battery-powered strips can be cumbersome.
If you're looking to add a tech or sharp modern vibe to your living room, LED strips might be the right option for you.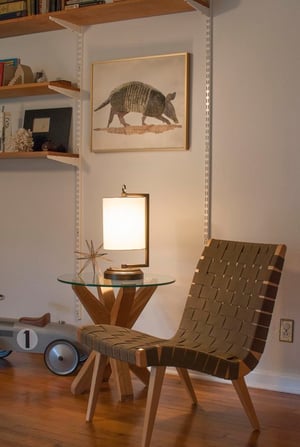 From Modern Lantern on Pinterest
Battery Lights
We've mentioned battery-powered lights a few times in this article, and they are definitely a versatile option.
With no wires and an array of available shapes and sizes, battery lights let you put lights in places unsightly cords won't reach.
The main issue with battery lights, however, is that they eventually run out of juice and need to be replaced.
This will happen, of course, when you least expect it and depending on where the light is, swapping batteries can be a nuisance.
If you're considering battery-powered lights, place them in easy-access locations and have some replacement batteries on hand.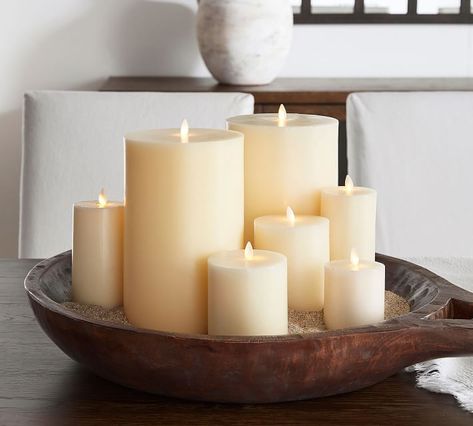 From Pottery Barn on Pinterest
Flameless Candles
Flameless candles are a simple, safe option to add some warmth to your living room.
You can cluster them on end tables, lay them across a mantle, or scatter them around an entertainment center.
The soft glow of the candles won't be enough to illuminate the entire room, but they will help create a cozy ambiance that's perfect for curling up on the couch.
Switching to You
As you can see, when it comes to lighting a living room with no overhead lights, there are many bright solutions at your disposal.
In fact, we bet that those of you reading this have some good ideas we didn't mention.
So please, enlighten us. Leave your ideas for lighting a living room in the comments below.
Your tips might just brighten someone else's day!
Popular Articles on Lighting Your Living Room