How To Decorate A Slanted Wall Bedroom
If you're reading this, you're looking for ways to decorate your slanted wall bedroom.
While the limited vertical space may seem intimidating, decorating your loft is an acute problem at best.
Jokes aside, we've put together this quick, actionable guide to help you decorate every angle of your slanted wall bedroom.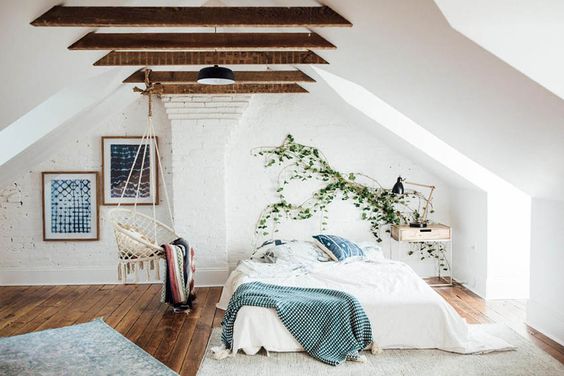 courtesy for designingidea on Pinterest
Beam Theme
Before you pour over catalogs and Pinterest looking for the perfect vibe, take a look around your room. The beautiful thing about slanted wall bedrooms is that you can use existing elements to inspire the room's decor.
Let's say your room features exposed steel or wooden beams running across your ceiling. By implementing your existing structure into the design of your room, you can create a cozy cottage feel or a modern industrial style. It's much easier to style around these elements than squeezing them into an entirely different design.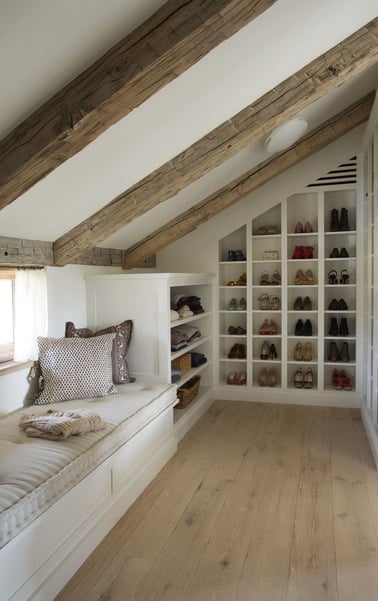 courtesy for centrallondonloft on Pinterest
Coordinating Colors
As we've said before in How To Brighten Up A Dark Kitchen and 13 Bright Ideas for Living Rooms with No Overhead Lighting, light colors make a room feel bigger while a darker pallet makes a room feel smaller. Decoist.com supports this idea by sharing,
"when it comes to the color scheme, it is best to stick to a simple and neutral color palette that is not too harsh on your eyes."
There are plenty of ways you can use color to make your room feel more spacious:
Paint every surface one color for a cohesive feel and the illusion of more space.
Paint your ceiling a white or light color.
Paint the walls a different color from the ceiling (whether that includes the slant is really up to you).
Paint stripes to elongate the room.
Pair a slightly darker rug with a lighter floor.

Mirror Matters
Mirrors are great for making a space seem bigger as the reflective surface will throw light around the room. For maximum effect, Boch.com suggests placing your mirror across from empty space. Reflecting a storage item or shelf will have the opposite effect.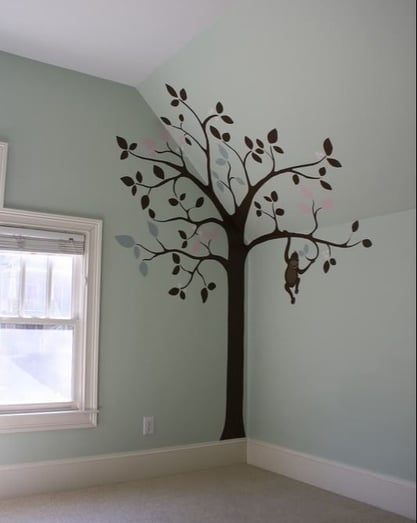 courtesy for maybeshemadeit on Pinterest
MultiPlane Murals
Of course, wood paneling and wallpaper provide nice textural contrast for your walls regardless of what angle it's at. However, if you're artistically gifted (or know someone who is), try painting a slanted wall mural. This design is your chance to experiment with a multiplane mural. These pieces can include two walls and your ceiling for a unique look.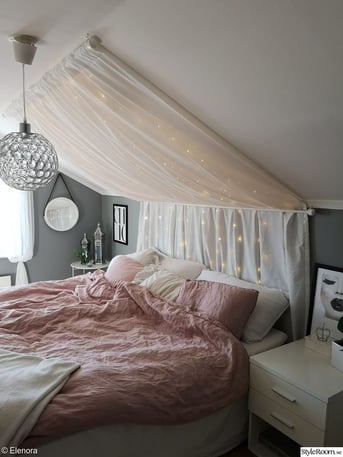 courtesy for styleroom.se on Pinterest
Faux Canopy
When it comes to a slanted wall bedroom, no decor item is more popular than installing a faux canopy over the bed, especially with younger kids. If you, or your child, really want to feel like royalty, this is an easy and fun idea to customize a bedroom.

Proportional Decor
The truth is, if you had all the same dimensions without your slanted wall, you'd have more space (especially vertical space). Items that fit in a more rectangular room might not fit in your bedroom, depending on the wall's gradient.
That means you have to think smarter when it comes to decor and pick items of equal height. 42Lounge.com recommends opting for a bed frame that's lower to the ground, sitting at a shorter desk, and keeping your clothes in a wide dresser instead of a tall armoire.

Minimalism Moves
One of the easiest ways to manage a smaller living area is simply having less stuff — aka minimalism. By prioritizing your needs and taking up less space, you can make your bedroom seem larger.
But minimalism doesn't mean you have to sacrifice utility. Multipurpose furniture is a great way to save space without sacrificing storage.
Place a storage ottoman in front of a window for a cozy reading nook where you can keep your blankets. Use a low storage bed to house out-of-season shoes and fits. By making smart decor decisions, you can save space and storage for the items you really need.

Bonus Tip: To save floor space, you can install slanted shelving on the slanted wall of your room.

Loft Lighting
Many lofts and bedrooms with slanted walls feature skylights and windows. While these offer plenty of natural light during the day, you'll need other light sources during the evening. Arc floor lamps, wall sconces, and pendant lights are your go-to options here as they easily accommodate angles and vertical space.
Now It's Your Turn
With less space and an unconventional shape, you have to think outside the box when decorating a slanted wall bedroom.
Hopefully, our guide has made this design challenge exciting.
Let us know how you decorated your slanted bedroom in the comments below.