How to Brighten Up a Dark Kitchen — The Ultimate Guide
You shouldn't have to squint to chop vegetables or wash the dishes. Whether you have no overhead lighting or are struggling with specific task areas, you know a dark kitchen is more than just an inconvenience. To help you improve your current setup, we've put together this guide to brightening up a dark kitchen.

courtesy of IKEA on Pinterest
Add Clamp Lamp
If you have a darker kitchen, adding recessed lighting might seem like an obvious solution. But, for a small apartment with an even smaller kitchen, construction is likely not an option. That's where clamp lamps come in. You can either lock or nail these versatile lights to a wall or ceiling.

Swap for Brighter Bulbs
Want a simple solution that's low cost and doesn't require any DIY renovations? Use brighter bulbs. No, seriously, try brighter bulbs (energy-saving ones if you can).
Most kitchens use 60 watts or below. By upping the wattage to the highest amount for each fixture —- usually 80 or 100 — you can easily increase the brightness in your kitchen.
Additionally, if your fixture can handle it, consider swapping your traditional bulbs for LED ones. LED bulbs are brighter because they offer more lumens for the same number of watts as other types of light bulb
Install Pendant Lights
Already have recessed lighting, and it's still not cutting it? Try swapping the hardware for pendant lamps or flush-mount ceiling lamps. Some pendant conversion kits screw easily into your recessed fixtures for an easy swap. If you decide it's not working, you can always take them out.

Under Cabinet Lights
Under-cabinet lighting is an easy fix for dark, cramped kitchens. With puck lights, fluorescent bars, and LED strips to choose from, you have plenty of versatile options to brighten your kitchen. Also, if you have a reflective backsplash (which we'll get to later), combine it with your under cabinet lighting to maximize their effect.

Add Lighter Colors
Happy with your current kitchen lighting? Changing the color of your kitchen can improve its brightness without you role-playing as an electrician. Add some vibrant colors through decorative items, like a bright-hued vase, ceramics, or piece of art.

Paint it White
Instead of adding splotches of color, or a singular contrasting piece, paint your entire kitchen white. And I mean your entire kitchen — cabinets, backsplash, appliances, the works. While an all-white kitchen can be tough to maintain, it reduces the visual weight of your space, making it look and feel much brighter.
courtesy of overstock.com on Pinterest
Kitchen Mirrors
We used this trick back in our guide, 13 Bright Ideas for Living Rooms with No Overhead Lighting. Mirrors are an easy way to create an illusion of more light and space. They're most effective when hung directly across from a window to easily bounce the maximum amount of natural light around your kitchen.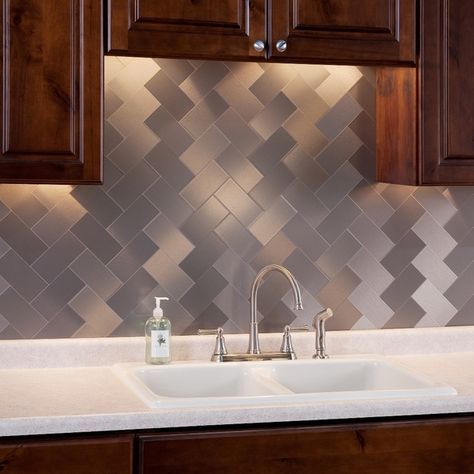 courtesy of overstock.com on Pinterest
Metallic Materials
Don't feel like turning your kitchen into a funhouse? Instead of mirrors, focus on adding metallic surfaces to help reflect light. A stainless steel fridge, sink, or other appliance will help disperse the light throughout the space.

Say Goodbye to your Dark Wood Cabinets
It's true. Dark wood cabinets look cool, no one is denying that. But if you're struggling with a dimly lit kitchen, your light-sucking cabinets aren't helping.
If you don't want to paint your cabinets, Northeast Factory Direct's line of semi-custom cabinets lets you remodel your kitchen for the absolute best price. Swap your dark wood cabinets with a lighter color and premium features at no extra cost. If you're curious about brightening up your kitchen, schedule a call with our team today.

courtesy of overstock.com on Pinterest
Backsplash is Best
We've alluded to your kitchen backsplash a lot in this guide, but can you blame us? It's such a versatile tool. You can make your backsplash reflective, paint it a contrasting color, or even add a cool design to it. Whether you're using your backsplash to bounce light around the room or just shift the visual weight, there's a lot you can do with little renovation.

courtesy of overstock.com on Pinterest
Open Shelving
Open shelving helps both with visual weight and light management. The airy, open feeling helps make the space brighter, and there's less material to block light. Plus, you can show off your cool ceramics, cookware, china, or recipe books.

Don't Use Curtains
With kitchen windows, an easy way to brighten your space is to do less. Don't put curtains on your windows and make use of natural light. Worried about privacy? Add translucent window film that still lets light in but doesn't let your neighbors watch every meal.
Now It's Your Turn
We've shared a lot of different ways to help brighten up a dark kitchen. The best part is they can be used in multiple combinations.
A reflective backsplash paired with under cabinet lighting and a kitchen mirror can add light more than any piece on its own. What combination are you planning to use in your kitchen? Leave a comment below, letting us know!
Other Articles on How to Brighten Up a Dark Kitchen