How To Organize A Small Kitchen Without A Pantry
We've shared many ways to make your small kitchen feel bigger.
But feeling bigger doesn't mean more storage space.
In a small kitchen, especially one without a pantry, you need all the storage solutions you can get.
That's why we've compiled this guide to organizing a small kitchen without a pantry.
Let's get started.

Organizing Your Current Storage
For a small kitchen without a pantry, interior storage is a precious resource.
By dividing your kitchen storage into 3 tiers — cabinet, counter, and drawer — we can organize your kitchen on every level.
Cabinet Organization
We've covered organizing your kitchen cabinets at length in our article, How To Organize The Food In Your Kitchen Cabinets And Pantry.
But for the sake of this guide, we'll provide you with a quick overview.
Your strongest allies in cabinet control are organization tools like:
Interior drawers/ Pull Outs
Clear containers and baskets
Raised cabinet racks
Turntables
Corkboards
Mug hooks
These help you group similar items together and organize them based on type or task.
Counter Organization
As we mentioned in How To Accessorize Your Kitchen Counters, one of the easiest ways to organize a kitchen of any size is by keeping your counters clear of clutter.
Beyond keeping them clear, organizing the items on your counter into cliques based on similarity is a simple way to save space.
Use canisters and glass containers to hold cooking utensils and dry goods.
Not only are you reducing clutter, but you're also adding to the decor!
Bonus Tip: If you have the room, free up interior storage space with a bread box and paper towel holder for your counter.
Drawer Organization
Drawer organization is another critical factor in bringing order to your kitchen.
In How To Organize Deep Kitchen Drawers, we identified drawer dividers as the most valuable tool for decluttering drawers.
In addition, grouping similar items together — dishes, bowls, lids, and pans — helps reduce drawer clutter.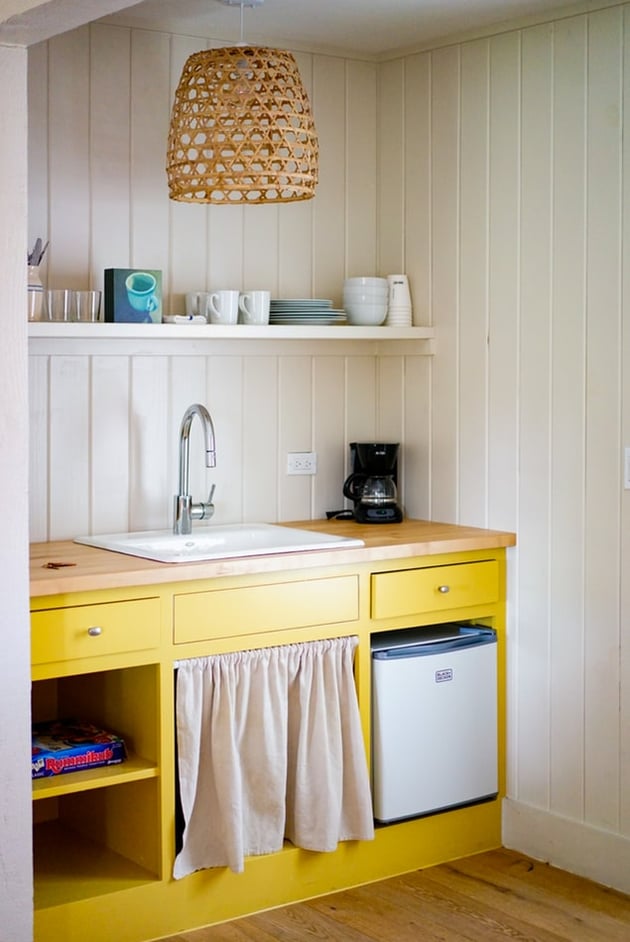 Furniture For Storage And Style
While there are plenty of ways to organize the interior of your cabinets and drawers, in a small kitchen without a pantry, you may have to bring in some extra help.
Any one of these pieces can help support your limited cabinet, counter, and drawer space while adding to the style.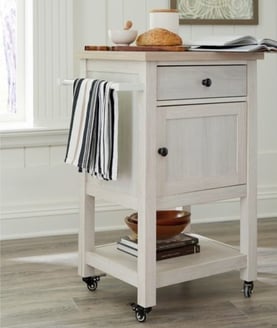 Kitchen Carts
Kitchen carts (pantry carts or bar carts) are inexpensive, mobile organizers perfect for frequently used ingredients and quick access food items.
They're usually small enough to store in a corner — slideout cars are perfect for tight spots — yet can hold a wide range of items.
Available in a variety of materials and designs, carts aren't just a great way to add storage and prep space.
They can double as mobile serving stations, encouraging guests to migrate out of your small kitchen and into your entertaining space.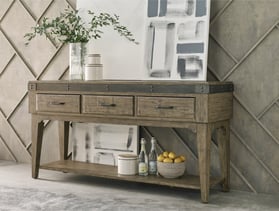 Sideboards or Credenzas
If you have an open concept kitchen (or a studio apartment), then squareinchome.com suggests adding a sideboard for additional storage.
While they're commonly used to store table linens or dinnerware, they can serve as a stylish storage cabinet for frequently used pantry items.
If you have few (or no) cabinets or prefer hidden storage, a small sideboard or credenza is the way to go.
Plus, you have extra surface space to rest your microwave, small appliances, food items, and plants.
Hutches
Have a hutch in your dining room?
Familyhandyman.com recommends converting it into a pantry by storing some of your rarely-used dinnerware.
Relocate your coffee maker along with some glass containers for your grounds, and you've got an adorable coffee station.
Not only are you creating more interior storage, but you're conserving counter space with style.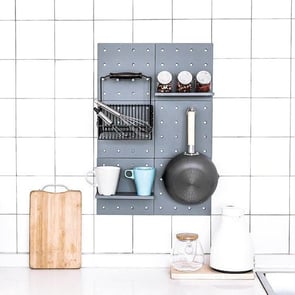 Pegboards
Pegboard is one of the most versatile materials for organizing a small kitchen without a pantry.
Not only are they fully customizable, but they're also fun to style!
Whether you install shelves to house ingredients or use hooks to hang baskets and utensils, pegboard provides easy access to your kitchen staples.
Courtesy of lafashion.com on Pinterest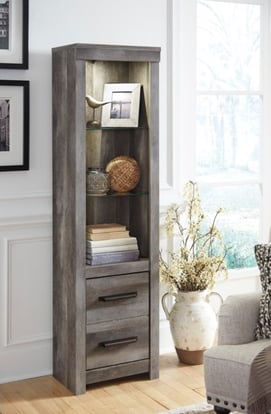 Bookcases
To make extra room for kitchen items, mydomaine.com suggests using a bookcase.
By stacking dinnerware and mugs or decorating with produce baskets, a bookshelf can make smart use of vertical space.
In addition, store dry pantry items in clear containers alongside plants and other decorative pieces for a stylish yet practical storage solution.
Making Use Of Unexpected Spaces
Even a small kitchen without a pantry has unexpected storage space.
It's all about where you look.
Use Wall Space
You can create a lot of storage space by thinking outside the box.
Oxo.com recommends installing floating shelves around your kitchen walls and populating them with your most stylish pieces — bowls, mugs, glasses.
This way, you can save the hidden interior space for the less visually appealing boxes of pasta, cereal, and crackers.
Repurpose Space
Your small kitchen has limited space, especially without a pantry.
Fortunately, other areas around your home can help out.
If you have a closet near your kitchen, confessionsofanover-workedmom.com suggests borrowing some space by converting it into a small, functional pantry.
You can even install some shelving, baskets, or bins to keep things organized.
Just don't leave any food in a coat pocket.
Now It's Your Turn
Organizing a small kitchen is challenging enough on its own, let alone a small kitchen without a pantry.
But, as you can see, there are plenty of creative options for bringing order to your space.
Anything we missed?
Leave a comment letting us know.