Good for the Planet, Good for our Customers
How can a furniture store do its part to protect our planet? With all of the furniture – couches, dining room sets, bedroom furniture – arriving to the warehouse in giant cardboard boxes and Styrofoam padding, it would be easy to fill dumpster after dumpster with packaging debris. But not at Northeast Factory Direct.
A Core Mission
Northeast Factory Direct takes its responsibility to our customers very seriously. That extends further than providing the best prices around. We believe that companies have an obligation to reduce their impact on the planet and to streamline their operations to incorporate more sustainable business practices.
Alex Nemet, owner of Northeast Factory Direct says, "For years, we've had recycling measures in place. In searching to expand our efforts and to reduce our impact, we've also invested in equipment that not only allows us to recycle even more – it will also save us thousands of dollars on disposal. That means we've found another way to pass savings on to our customers."
Searching for Solutions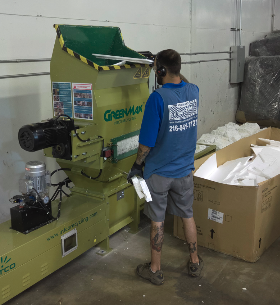 To handle all that cardboard, we use a baler that that takes over 1,000 pounds of cardboard each day, breaks it down and bales it. Then those bales can be sold to a local company for redistribution or recycling.
Next on the list is plastic. We are all focused on keeping plastic waste to a minimum and out of our landfills. The baler solved that issue, too. Just like the cardboard, we can compress it, bale it, and then sell it to a local company to be recycled the right way.
That brings us to the biggest challenge for our company and our planet – Styrofoam. Bulky, awkwardly shaped sheets and chunks of Styrofoam line almost every box of furniture. They take up a lot of space and are difficult and expensive to transport and recycle. A little research led to the Green Max AC 100 – or what we affectionately call The Green Machine.
The Green Machine takes EPS Styrofoam and grinds it up into sand-like pellets. Those pellets are then heated and compressed into a very dense block. So, instead of 30 dumpsters full of Styrofoam, we've got a couple dozen bricks that can go to the same company that recycles the cardboard and plastic.
It's Good to be Green
Customers are used to saving lots of cash when they shop with Northeast Factory Direct. But our customers can feel good about the purchases they make from us because they know they're supporting a company that cares deeply about the environment.