How To Install A Hanging Chair
Whether it's for relaxing after a long day, escaping your responsibilities, or ignoring the stresses of the outside world, it doesn't get much cozier than your very own hanging chair.

But is the security they provide worth the hassle of installing them?

After all, those chairs don't hang themselves.

The answer is, of course — especially with our quick guide to installing a hanging chair.

Let's get started.
Some Fundamentals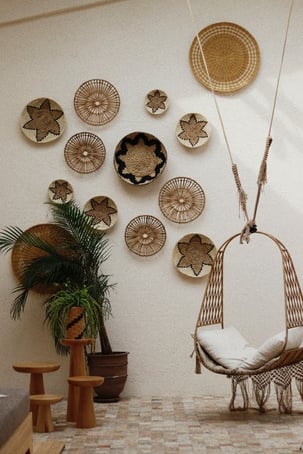 Here are some basics you should keep in mind before attempting to hang any type of chair.
Any hanging chair you hang from the ceiling MUST be supported by ceiling joists. A plaster or drywall ceiling is not strong enough on its own.
A single joist is not enough to hold 200+ lbs.
The strength of each joist is unique.
Manila is a great choice if you want a natural-fiber rope since it's both outdoor-friendly and long-lasting.
Determine how long your rope/chain needs to be ahead of time so that the bottom of the chair hangs 3-4 feet off the ground.
Read the installation manual that comes with your hanging chair or hammock.
Types of Chairs
Hanging chairs come in two styles, swing and pivot. Both are available in a hammock chair or basket chair based on your preference.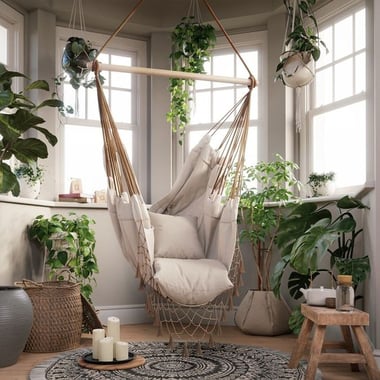 Courtesy of Wayfair.co.uk on Pinterest
Swing Style
Swing-style chairs enable you to swing softly back and forth. They require two anchor points for installation, distributing weight across both points.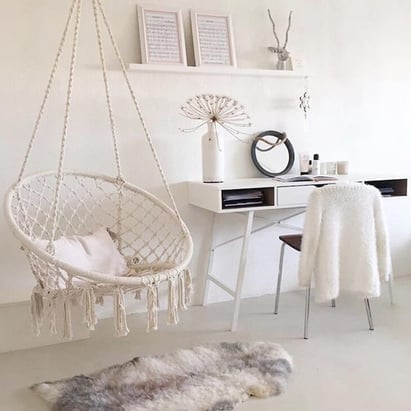 Courtesy of lowes.com on Pinterest
Pivot Style
Pivot-style chairs allow you to gently rotate 360 degrees while you relax. These chairs only require one anchor point and can support less weight as a result.
Things You Will Need
With a good sense of the fundamentals and your chair picked out, follow this checklist of necessary items before you get started.
A stud finder.
Electric Drill & drill bits (wood or concrete bit) or screwdriver.

Socket wrench or screwdriver for tightening screws.

Two chain connectors, S-hook, or locking carabiners (depending on your preference). All must be able to support at least 300 pounds.

2 stainless steel ceiling mount (round or diamond shape that can support 250-300lbs).

2 sprung snap hooks (approximately 3" to 4.5").

4 expansions bolts (concrete) or 4 large screws (wood) (⅜-inch eye screw that can hold at least 300 pounds with a thread at least 4in long.
The provided stainless steel chain (#2 machine chain, straight link 325 lb) or manila rope that can support up 300 lbs.

1 hanging chair or hammock swing chair.

Mounting kit (if your chair doesn't come with any hanging hardware).
How To Install A Hanging Chair
Now that you've gathered all of your gear, here's our step-by-step guide to installing your hanging chair.
Find a spot to hang your chair
Without a doubt, a cozy corner is the most ideal spot for a hanging chair.
But it really comes down to where you have the most support (aka, a ceiling beam or joist).
So, find an area you'd like to hang your chair, then use a stud finder to locate a secure place to hang your chair.
Choose a spot that allows for at least 3 feet of space behind the chair and at least 14 inches on either side.
This will prevent the chair from hitting a wall or a railing while you drift.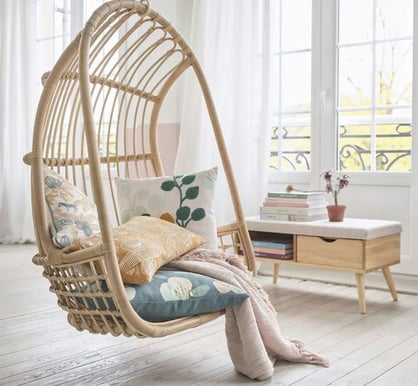 Courtesy of maisondumonde.com on Pinterest
Mark The Stud
Use your stud finder to locate a ceiling joist or internal beam.
Next, Limboimports.com suggests marking both sides of the joist or beam with a pencil.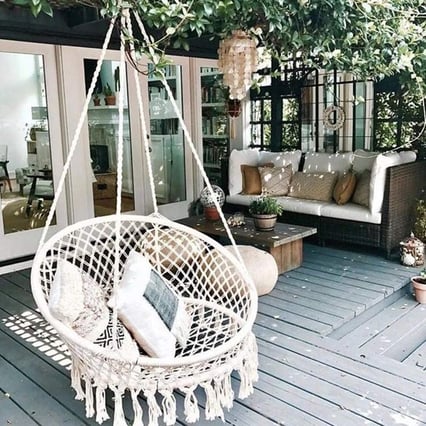 Courtesy of walmart.com on Pinterest
Drill a Pilot Hole
Using the mount as a guide, mark the mount's hole locations on the ceiling.
Then drill a pilot hole about 2-3 inches deep into the center mark, through the ceiling drywall, and into the joist.
Hunker.com, suggests making sure that the drill bit you use is smaller than the width of the eye screw, and holding the drill straight so that your screw will go in at a 90-degree angle.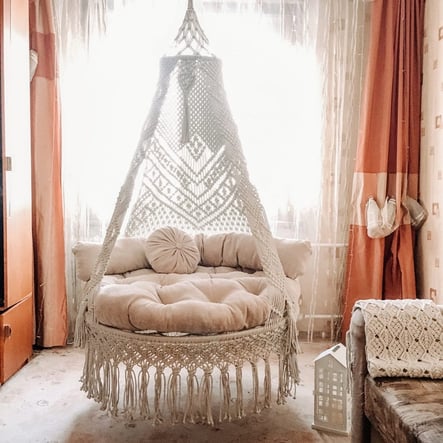 Courtesy of etsy.com on Pinterest
Install The Mount
Screw-in your S-hook or suspension plate — suspension plates often have drill holes and corresponding screws.
If you need more leverage, a socket wrench can help move the screw the final few turns.
Then tug on the mount to check for stability.
If everything holds, you're in good shape.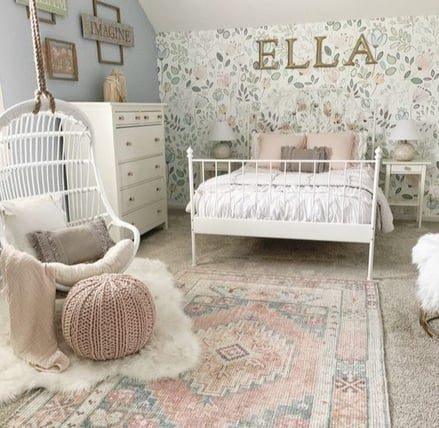 Courtesy of blessthisnestblog.com on Pinterest
Install Your Hanging Chair
Once the hanger hook is attached to the ceiling, suspend your hanging chair using the ropes or chains.
Next, adjust the chain or rope to your desired height; Housebeautiful.com recommends 18-24 inches from the ground.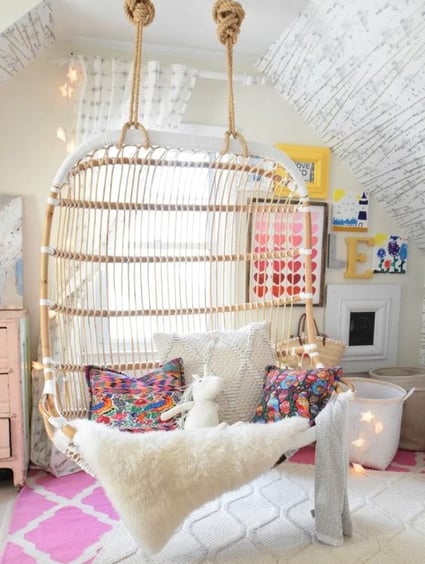 Courtesy of nestingwithgrace.com on Pinterest
Check For Stability
Finally, apply downward pressure with both arms, or tug on the chain/rope to see if the swing holds.
No issues? Then congratulations!
You've installed a hanging chair.
Sit back, relax, and enjoy your cozy new space!
Courtesy of limboimports.com on Pinterest
Hanging Chair Accessories
A hanging chair is only so cozy on its own.
These accessories will help you complete your new sanctuary with style and comfort.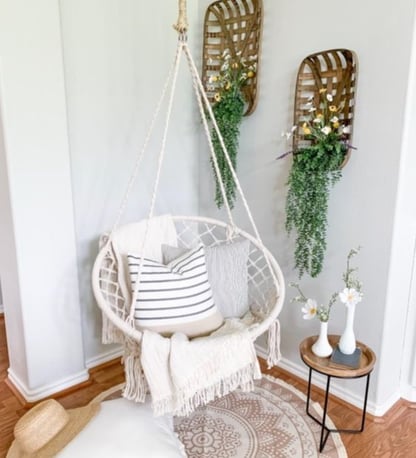 Courtesy of Amazon Fashion on Pinterest
Cushions and Pillows
Most hanging chairs come with a cushion on the seat.
Of course, one pillow isn't enough.
By arranging pillows and cushions of different colors and textures you can personalize your cozy nook.
For an in-depth guide to mixing and matching furniture, check out our guide, "How To Mix And Match Bedroom Furniture".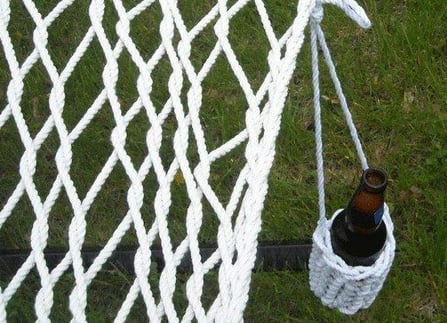 Courtesy of thecharmingbenchcompany.com on Pinterest
Cup Holders
Hanging-chairs.net suggests taking hanging chair comfort to the next level with cup holders.
Now you can curl up with a hot cup of tea, an iced coffee, or a crisp glass of wine without having to worry about spills.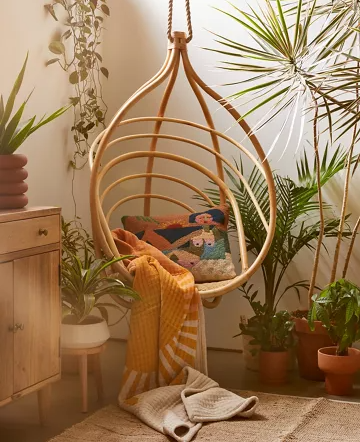 Courtesy of Amazon Fashion on Pinterest
Blankets And Quilts
Blankets and quilts serve a dual purpose when it comes to hanging chairs.
First, they're a stylish way to accent the decor of your room.
Second, they increase the comfort and security of your hanging chair by adding another layer to cocoon yourself.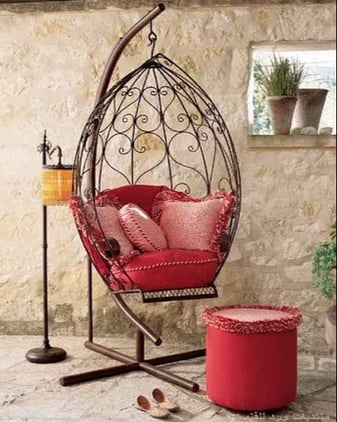 Courtesy of lushome.com on Pinterest
A Detached Footrest
Depending on how you're sitting in your hanging chair or how high you have it off the ground, your feet may not touch the ground.
Choosing a chair with a detached footrest is an easy way to increase your range of motion and comfort.
Alternatively, placing a small ottoman in front of your hanging chair makes for a great footrest and added storage.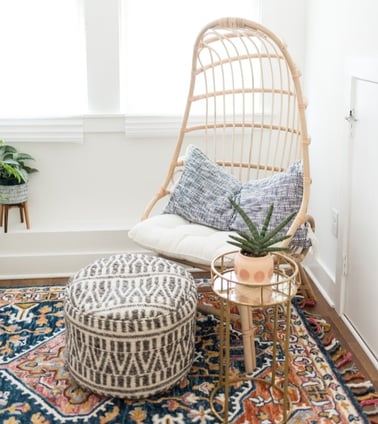 But What If You Rent?
If you rent a home or an apartment, it's likely your landlord won't be thrilled with you drilling holes in the ceiling (or your neighbor's floor).
So, if you want the comfort and safety of a gently drifting hanging chair but can't hang one in your home, what do you do?
Here are several chair styles that create the cozy, safe environment we look for in our most relaxed spaces — no tools required.

Hanging Chair Stands
These chairs capture the look and feel of their hanging cousins but are supported by a frame on the ground.
A useful alternative, as a chair stand, can be moved around your home since they aren't mounted to the ceiling.

Oversized Chairs
An oversized chair with large arms creates a contained space that's perfect for curling up in.
Yet, its increased size created enough space to comfortably adjust your position, to spread yourself out.

High-Armed Chairs
A high-armed chair is a reliable alternative to capturing the enclosed, protected feeling of a hanging or egg-shaped chair.

Swivel Accent Chairs
Finally, a swivel accent chair captures the feeling of rotating in a hanging chair without having to drill any holes.
Now It's Your Turn
There you have it, how to install a hanging chair and some tasteful alternatives.
Hopefully, this guide helped you create a safe, cozy space wherever you live.
For more decorating tips, check out our blog at Northeastfactory direct.com.