How To Make Space for Your Pool Table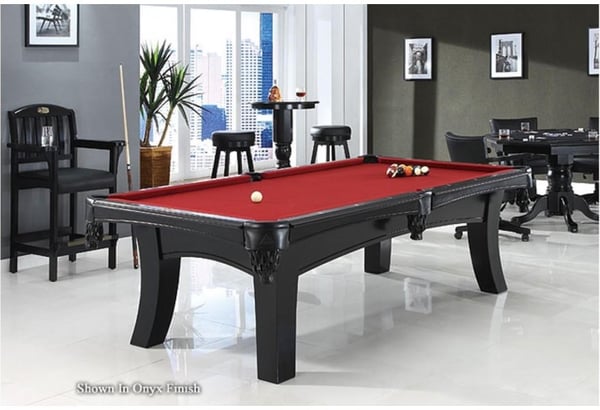 How to fit a pool table in your home
The Ultimate Guide to Pool Table Placement
So, you've finally accepted that your home just isn't complete without the clacking of colliding pool balls.
Now it's just a matter of which pool table best fits your available space.
After all, the last thing you want is to bring home the perfect table and not have the space to shoot.
Whether you're looking to add some good old-fashioned entertainment to your game room, basement, garage, family room, or man cave, our buyer's guide to the right pool table will help you avoid disappointing mistakes.
Pool Table of Contents:
Table Size and Room Requirements
For those of you concerned about the size of your room, you have a little flexibility.
With three standard table sizes to choose from - 7 foot, 8 foot, and 9 foot - almost everyone can add a pool table to their home.
These are dimensions for pool table surfaces, however, and the outside dimensions of the rest of the table can vary by manufacturer.
7 foot (Bar Size)
Outside dimension: 52 inches by 90 inches (approximate)
Playing surface: 37 - 39 inches by 76 - 78 inches
Room size: 12 feet, 9 inches by 16 feet
8 foot (Professional Size)
Outside dimensions: 60 inches by 106 inches (approximate)
Playing surface: 44-46 inches by 88-92 inches
Room Size: 13 feet, 4 inches by 17 feet
9 foot (Tournament Size)
Outside dimensions: 64 inches by 114 inches (approximate)
Playing surface: 50 inches by 100 inches
Room Size: 9-foot: 13 feet, 8 inches by 18 feet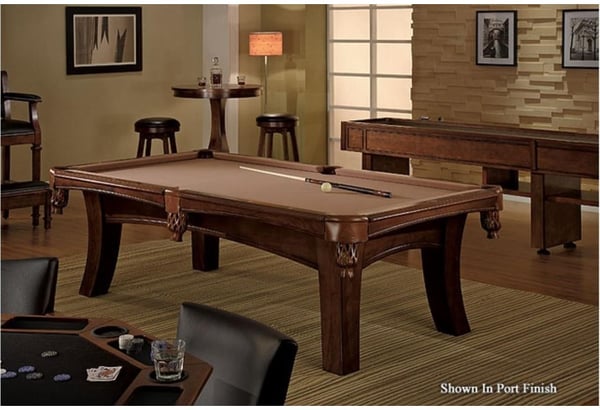 Table Perimeter Clearance
Before you get all excited that the tournament size table will fit in your space after all, remember that you do need space to play.
Make sure you have ample clearance around the perimeter, or your cue will end up colliding with a column or wall if it doesn't put a hole in it.
Houzz.com recommends at least sixty inches of clearance around the table perimeter for a comfortable playing area.
Solutions for Small Rooms
If your ideal space can't fit a 7-foot table, here are some other options to help you achieve your pool table dreams.
Mini Table or Bar Sized
If your only available space can't fit a bar-sized table, a mini table is a strong option.
While they're not the standard size you're used to, English pool tables can be as small as 6 feet long.
Pool/Dining Table Combo
If you want a pool table but don't have a dedicated game space, a combination table could be the solution you've been searching for.
Pool and Dining combo tables come in a variety of styles to perfectly blend with your existing decor.
Smaller Pool Cues
Here's where you can really save some space.
Pool cues are generally anywhere from 48 to 58 inches long.
If you're more attached to the pool table than the cue, you can compromise with shorter playing cues.
Cues come in varying combinations of length and weight.
Gameroomfans.com suggests opting for a 36 or 48-inch cue instead of the classic 57 or 58-inch cue.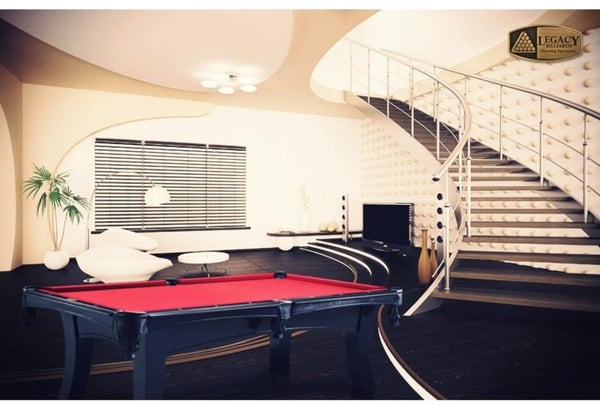 Other Pool Table Considerations
Pool Table Noise
While you may love the sound of pool balls sinking into pockets, others you live with might not.
It's true that their lack of appreciation for the sport is tragic, but it's unlikely overexposure to pool ball clatter will win them over.
If you're thinking of placing your pool table in an open shared space instead of a basement, consider how the noise will carry throughout the home.
Pool Table Weight
If you do plan on placing your pool table in an open space such as a loft, be mindful of your table's weight.
Houzz.com says an average 8-foot traditional-style pool table weighs 700 to 1,000 pounds, with solid wood tables weighing between 1,000 and 1,200 pounds.
Although pool tables are heavy, - and a pain to carry upstairs - their weight is evenly distributed and don't usually need additional support.
If you live in an older home, however, and are concerned about its ability to support your pool table, it's smart to consult an architectural or engineering specialist.
Pool Table Use
Of course, your pool table isn't just a decoration. How it's going to be used is an important factor to consider when making your purchase.
Will it be used often?
How many people are going to be using it and taking up space at once?
Is it for your kids? Then that mini table might be the right size.
Don't be surprised if you find that scaling down a size and leaving more playing space to be the best option. After all, a good game of pool only gets better with a great group of friends.
Your Turn
We hope this guide has made picking out your pool table much easier.
Leave a comment letting us know what tip helped you the most. or any other tips you think we should mention.