How to Choose Your Bathroom Vanity
So, you've decided to remodel your bathroom.
There's a lot that you're considering changing, but you know that old bathroom vanity has got to go.
You've done some window shopping and have good feelings about several ideas, but don't know which one is right for you and your bathroom.
You don't know how to choose your bathroom vanity, and that's okay.
A remodel is a big commitment, and you want to be happy with your choice.
To help make that decision easier and the results more satisfying, we've put together this guide to help you pick the best bathroom vanity for your bathroom.

What to Know Before You Pick a Bathroom Vanity
We can all agree that spending a day or more pouring over catalogs and inspiration photos to visualize a new space is time well spent.
But when it comes to making a decision, especially on your bathroom vanity, you'll want to be well educated and have a plan.
Here's what you need to know about your bathroom and your future vanity before you even consider opening your wallet.
Where is Your Bathroom Vanity Going to Go?
Unless doing a structural remodel of your bathroom is in your budget, you're probably at the mercy of your existing bathroom and plumbing.
That means you need to consider factors such as:
The accessibility of your bathroom.
Where existing plumbing will accommodate a bathroom vanity.
Bathroom Accessibility
You only have so much space in your bathroom, to begin with.
When you factor in the room taken up by toilets, tubs, showers, and open doors and drawers, you end up with a lot less than you'd think.
When choosing your bathroom vanity, be mindful of how your vanity will interact in that space.
Will it keep the shower door from opening all the way?
Will a window take up valuable mirror space?
If someone is using the sink, will it interrupt the flow of traffic?
You must consider all of these variables when deciding the size and location of your new bathroom vanity.
Plumbing
Odds are, you aren't looking to spend your budget restructuring your plumbing.
So, you'll want to know the location of your existing plumbing before selecting your bathroom vanity.
Laurysen Kitchens recommends freestanding vanities as they're generally more forgiving towards existing plumbing connections that are irregular or off-center.
They only require minimal adjustments to the existing water supply or drain, in contrast to a wall-mounted vanity.

What Size is Your Bathroom Vanity is Going to Be?
The size of your vanity depends on the size of your bathroom.
Therefore, you need accurate measurements of the width, depth, and height of the vanity-friendly spaces in your bathroom.
According to Dwell.com, the standard depth of a vanity from front to back is typically between 20" and 21".
There are narrower options, however, around 18" deep.
Traditionally, 32 inches is the go-to height measurement for bathroom vanities, but modern sink styles suggest aiming for 34 to 35 inches.
Those extra two to three inches ensure you won't strain your lower back hunching over a short sink.

How Much Storage do You Want from Your Vanity?
The size of your vanity directly impacts how much storage space you have to play with.
Houzz recommends taking inventory of your current bathroom to determine what kind of space is needed.
Freestanding vanities generally have more storage options than their wall-mounted cousins.
If you're concerned about floor space, however, adding wall cabinetry or cabinets that rest on top of the counter are other viable options.
How to Pick a Bathroom Vanity
Vanity Types
Corner Bathroom Vanities
If the goal of your bathroom remodel is to maximize floor space, a corner vanity is a smart option, especially in a small bathroom.
At home in tight 90° spaces, corner vanities enable you to experiment with the remaining room.
Floating & Wall Mounted Vanities
This type of vanity mounts directly to the wall with no support from the floor.
Without any legs, the open space underneath floating vanities creates a sleek, modern aesthetic.
Floating vanities are a strong option for anyone looking to make a smaller bathroom feel larger.

Freestanding Bathroom Vanities
Freestanding vanities are by far the most popular and familiar type of vanity available.
Rest on the floor and anchored to the wall for stability, these vanities provide ample space for cabinets and drawers.
If storage space is a key factor in your decision, freestanding vanities are worth considering.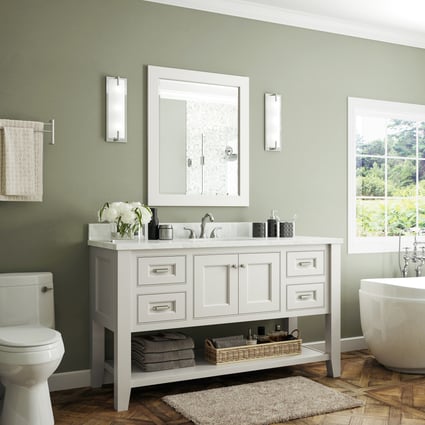 Bonus Tip: If you don't like the look of large cabinets, consider a console vanity. Their modest design provides a clean look while still providing ample storage space.
Vanity Design & Materials
Antique & Traditional
Trade Winds Imports states that antique vanities are " ideal for homes that feature designs that include Old World Fashion, rustic, country, cottage style, and ranch homes."
If an aged-looking vanity with ornate accents fits your dream bathroom, then an antique vanity might be the best choice.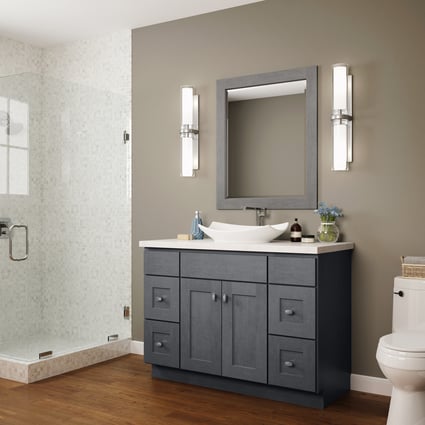 Modern
In contrast, the clean lines and simple designs of Modern vanities are perfect for contemporary remodels. Modern vanities come in a variety of different colors and materials, ranging from stainless steel, aluminum, chrome, and brushed nickel finishes.

Transitional
Transitional vanities are a blend of both the Antique and Modern styles.
They're a great compromise between the simplicity of modern vanities and the old-fashioned detailing of traditional designs.
Cottage
If you like the concept of an antique vanity, but it's not quite right, Signature Hardware recommends trying cottage style.
The delicate paneling and neutral tones of the farmhouse style are perfect for capturing the handcrafted aesthetic.
Rustic
Similar to cottage vanities, the Rustic style offers an all-natural look by using reclaimed—or reclaimed-looking materials.
With warm stains, intentional blemishes, and metal accents, even brand new Rustic vanities have that "lived-in" style.

Mission
If you like the look of a wooden vanity, but appreciate the clean, simple designs of the modern styles, mission vanities blend both concepts.
With natural stained wood accented with bronze, brass, or iron, these craftsman-style vanities give any bathroom and artisan appearance.

Shaker
For a gentler aesthetic than the mission and modern vanities, a shaker-style vanity is a reliable option.
With rounded hardware and slim tapered legs, shaker vanities are a strong choice for any bathroom that doesn't want to sacrifice that clean look.
Now it's Your Turn
There's a lot to consider when remodeling your bathroom, and it can get overwhelming if you don't know what you're looking for.
Hopefully, how to choose your bathroom vanity is something you no longer need to fret about.
Leave a comment letting us know which tips helped you the most, or any additional tips you think would be valuable for us to add.