How to Buy a Bathroom Sink - North East Factory Direct
"How do I choose a bathroom sink?" is a question anyone remodeling their bathroom will encounter.
Whether you're remodeling your entire bathroom, or just making a sink replacement, picking a sink that fits your style - and your household's lifestyle - is a crucial decision.
So, it's best to understand all your options before you settle on a sink.
That's why we've made this guide to picking your bathroom sink.

What to consider Before looking at Bathroom Sinks
Sink Maintenance
There's no one size fits all cleaning product for bathroom sink maintenance.
Metal, wood, and stone sinks are sensitive to harsh cleaning products and need specialized care.
If your new sink is going to be in a high-traffic bathroom or prone to being messy, opting for a lower maintenance sink is a smart decision.
Bathroom Space
Of course, the amount of space you have in your bathroom will determine what size sink you can have.
If you're replacing a sink in a powder room or a small bathroom, choose a sink that will help you optimize floor and storage space.
That might mean choosing a sink without a countertop, providing more standing room at the cost of counter space and storage.
Bathroom Traffic
Some of the sinks on the market are quite stylish, but the more snazzy your sink, the more delicate it tends to be.
High-traffic bathrooms can be hazardous to fragile sinks, so if you're remodeling a family bathroom or a children's bathroom, a more conventional sink is a smart investment.
Consider saving that special piece for the less-used powder room.
Sink Size and Shape
Since there are no standard measurements for bathroom sinks, you can find them in all shapes and sizes.
Home Depot puts most round sinks at around 16 to 20 inches in diameter, most rectangular sinks at 19 to 24 inches wide, and 16 to 23 inches front to back. Typical basin depth is 5 to 8 inches.
A typical drop-in sink can be anywhere from 18-inches, front-to-back, and 20-inches from side-to-side.
But these metrics sway significantly from model to model.
There is no standard for bathroom sink height either, and the top of a sink can range anywhere from 29-inches to 36-inches off the floor.
Types of Bathroom sinks
Bathroom sinks come in a wide range of unique mounting options, shapes, and styles.

Console Sinks
Wall-mounted and supported by 2-4 legs, console sinks feature exposed plumbing and provide limited counter space.
For a more cohesive look, try matching your faucet with the exposed metal.
Self Rimming Sinks
Also called drop-in sinks, self-rimming sinks have a rolled and finished rim that rests above the countertop, holding it in place.
Compatible with any sink material, if you're looking for an easy, low-cost replacement, a self-rimming sink is easy to adapt to your bathroom style.
Under-mount Sinks
As their name implies, under-mount sinks are installed from underneath a solid surface countertop such as granite, quartz, or stone.
Because they attach to the bottom of the countertop, there's no raised edge or lip, making clean-up a breeze.
However, under-mount sinks won't work with all counter types and can be slightly more costly.
Vanity, integrated, & Counter Top Sinks

Vanity bathroom sinks also called integrated or integral sinks, are one-piece countertops with sinks built-in.
They're usually made from solid surface materials, such as granite, marble, porcelain, or quartz, and offer a contemporary appearance and easy cleaning.
Since they're built from the countertop, knowing the exact dimensions of your vanity cabinet is mandatory if you want a proper fit.
According to Fergusonshowrooms, countertop sinks are generally up to one inch larger than the vanity they sit on.
So, remember to round up when you're measuring how much space your vanity countertop will need.
Bonus: If you're looking to replace your entire vanity, check out our guide to choosing your bathroom vanity.
Vessel Sinks

Available in various materials such as ceramic, glass, and stone, vessel sinks are cousins to the vanity bathroom top.
The difference is that vessel sinks are distinctly separate from the countertop.
For example, in an above-counter installation, a vessel sink rests right on top of the counter.
Likewise, in a recessed installation, the sink is set partially within the countertop, but there's still a significant portion of the sink bowl visible above the counter.
Wall Mounted Sinks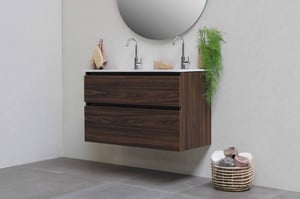 As their name suggests, wall-mounted sinks hang from your bathroom wall.
They're most commonly installed in commercial and institutional settings, but they're perfectly at home in your bathroom, too.
Wall-mount sinks are affordable, work well in small baths, and create a clean, open look.
Much like console sinks, you'll want an attractive pipe finish. Chrome is usually a safe choice.
Bathroom Sink Materials
A wide range of bathroom sink materials means you can express your style easily.
Glass Sinks
Tempered glass sinks bring a unique design aesthetic to your bathroom.
While they're resistant to cracking and shattering, they're often prone to showing water spots and require nonabrasive cleaners.
Metal Sinks
Stainless steel, copper, and brass sink all fall under the metal sink category. Of course, they're all extremely durable and damage-resistant.
If you're going to have a lot of traffic and clumsy hands using your sink, metal might be the way to go.
While metal sinks do tend to collect hard water spots over time, they're friendly to most household cleaners.
Cast Iron Sinks
Made of solid cast iron coated with enamel, these sinks are available in many colors and are easy to clean.
The enamel surface can be chipped, however, if it is hit hard enough with a heavy object.
Chipping will expose the cast iron and can eventually lead to rust.
Stone Sinks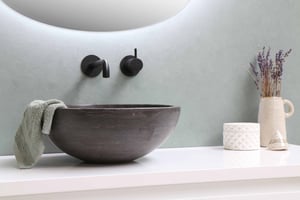 Made of marble, granite, travertine, and onyx, stone sinks offer beautiful coloring to any bathroom.
All stone is porous to some degree, however, so it's prone to staining and requires routine sealing.
Solid Surface sinks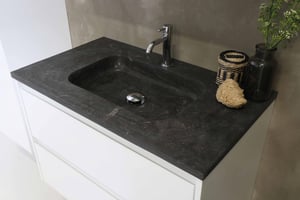 If you're looking for a light, low maintenance, and cost-effective sink, but still want the look and feel of a stone countertop, then a solid surface sink is your best bet.
Solid surface sinks are durable and easy to clean. If they get chipped or scratched, they can be easily replenished with non-abrasive household products, making them perfect for high-traffic bathrooms.
Ceramic sinks
When you think of a "classic" bathroom sink, you're probably thinking of a ceramic sink.
Usually made of porcelain, aka "Vitreous China" or fireclay, these sinks are all clay-based and have a lustrous surface.
Ceramic sinks are very easy to clean and resistant to corrosion and discoloration.
While they're durable, ceramics can be chipped or cracked if struck with enough force.
Now It's Your Turn
Whether you're remodeling your whole bathroom or just one sink, there's a lot to consider.
Hopefully, when it's time to choose your bathroom sink, we've helped to make the decision easier.
To help others through this process, leave a comment letting us know which tips helped you the most, or any additional tips you think would be valuable for us to add.