How To Declutter Your Bedroom
We've all had that moment where we look at our bedroom, and it starts to close in around us. The gravity of the mess ranges from disorder to teenager, but the feeling is universal. Either scenario can be intimidating, but with this guide to decluttering your bedroom, you can reclaim control of your bedroom.
Start With Your Bed
A cluttered bedroom is overwhelming, and deciding how to get started is often the biggest obstacle. To give yourself more space and build momentum, the first thing you should do is make your bed.
By making your bed before diving into everything else, you create extra room for you to place, fold, and organize items. If part of making your bed consistently includes moving throw pillows and a top sheet back off of the floor, budgetdumpster.com suggests retiring those items for good.
Tidy Your Room
To ensure that you have enough space, consider giving your room a light cleaning. Nothing too intense. Just enough to give your ample space to navigate your bedroom and organize your items. Grab a garbage bag or two, a recycling bag, and throw away any trash.
Next, take any trash and toss it into the trash can. Done and done. If you find any items that don't belong in your room, Thespruce.com suggests placing them in a designated catch-all bin. It can be tempting to return them to their proper spots immediately, but placing everything in the catch-all bin first stops you from making a hundred short trips out of your bedroom and getting distracted along the way. From there, clean off any additional surfaces you have so that you may use them for organizing.

Sort Through Your Items
There are a couple of approaches to sorting through your items. According to housebeautiful.com, the general consensus is that you should identify three distinct categories — Keep, Donate, Trash — and assign items to each category. Keeping as close to only the essentials as possible will go a long way towards decluttering your room.
From there, goodhousekeeping.com suggests starting small and focusing on one area at a time versus taking out everything at once. Sort through your dresser, sift through your closet, move through your nightstand, etc. This way, you won't get overwhelmed by taking everything out at once and facing a more intimidating explosion of items all over your room. Plus, each small part you finish decluttering will motivate you to carry on throughout the whole process.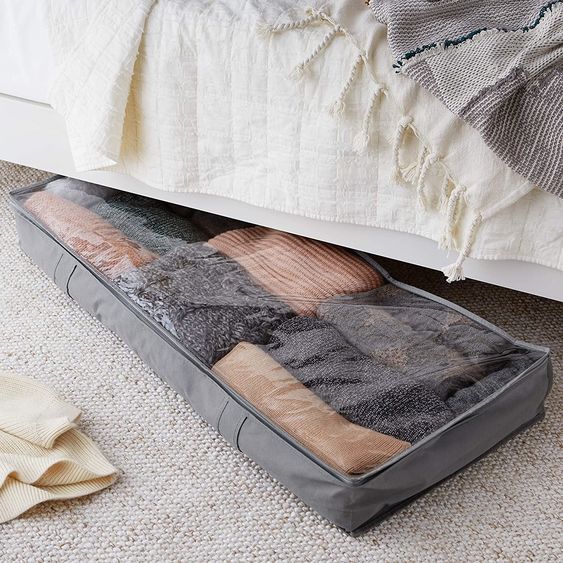 Courtesy of Buzzfeed on Pinterest
Pack Away Off-Season Items
At this point, you should have a well-defined Keep pile. From that pile, place any off-season clothes or accessories into storage. There's no point in having a sweater take up coveted summer closet space.
These can be kept under your bed, in a closet, or stored in another room. When the season changes, you can swap your current roster of clothes for the ones in storage. This helps reduce clutter year-round by keeping a more manageable number of clothes in circulation.

Return Items to their place
Now that your items are sorted, fold any clothes before putting them back and carefully return accessories and to their respective homes. If you feel like you still don't have enough space for your things, swap some of your bedroom furniture with more storage-friendly options. We listed several convenient items in our article on 20 Tips For Organizing A Small Bedroom On A Budget.

Toss larger items
With your trash and donate categories clearly defined, place the items for donation in a secure space and take your trash out. If your room still feels cluttered, consider getting rid of larger items. Removing furniture you don't use, or taking the TV out of your room can go a long way towards minimizing the clutter in your bedroom.
Now It's Your Turn
Decluttering your room can be a daunting process, especially if the clutter has been building for some time, but that doesn't mean it's impossible! We hope this guide helped you regain control of your bedroom and made the process less intimidating.
Do you feel that we missed a crucial step in the bedroom decluttering process? Let us know in the comments. Otherwise, feel free to share which tip helped you the most on your decluttering journey.