How to Place a Rug Under a Sectional Sofa
Whether you're furnishing a new place or remodeling your living room, placing a rug in your living room can seem like an intimidating task. If you're like most people and struggling to plan for adding a rug and sectional to your living room, but aren't exactly sure how you want to style them, look no further. In this guide, we'll break down how to place a rug under a sectional sofa and take one step closer to your perfect living room.

How To Choose The Right Rug
If you already have a rug to go with your sectional, then congratulations. Feel free to advance to the next section. However, if you haven't chosen a rug yet, here are a few things to consider.
Maidenhome.com lists the four standard rug sizes as 6x9', 8x10', 9x12', and 10x14. If you have a small living room and a smaller sectional, then a round rug is great for making that space feel bigger. Its curve offsets the more common rectangular shapes found in many modern living rooms.
In contrast, if you have a larger living room and sectional, you have the freedom to experiment. You can use a large-sized rectangular rug to fill much of that living room space or combine the sectional with a square, medium rug to craft a cozier hang out space.
As long as you avoid tiny rugs, decorating should be easy. If you've found a small rug that you absolutely have to have in your living room, however, place it on a larger neutral rug to tie the room together.

Rug Placement
Rug selection isn't your only creative choice when combining it with a sectional sofa. Placement can add an additional dimension of living room style all its own.

Centering Your Rug On The L
When it comes to rugs and sections, centering your rug in the crook of your sectional is the most popular option. When opting for this style, Homeofcozy.com recommends a larger rug to house all legs of your sofa. This is great for large living areas that can use this combination to make an even smaller, more dedicated living nook.

Place Your Rug Partially Under Your Sofa
This is another popular styling option but for smaller living rooms. Place your rug partially under your sofa with the front legs on the rug. Then, kavuus.com suggests adding a coffee table to the rug to cultivate a cozy seating arrangement.

Match Your Rug With The Short Side
Did you know that you can line up your rug with the short end of your sectional? Combining this style with a coffee table anchored to the center of the rug brings balance to this unconventional style.
If the chaise is significantly longer than the short portion of your sofa and the room feels off, add a side table to the short end to balance the flow of the space.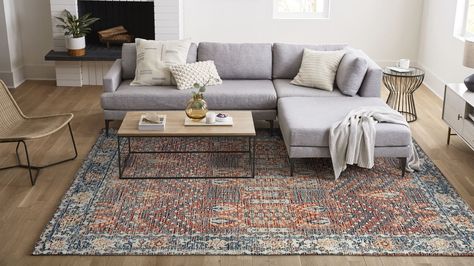 courtesy of westelm.com on pinterest

Center Your Rug
If you have a large space, whomhome.com proposes centering a rug in the middle of the room. Usually, these rugs aren't placed under your sectional as they are only large enough to house a coffee table. Best suited to a larger room with the rug as the centerpiece, layer furniture around the rug to balance it out.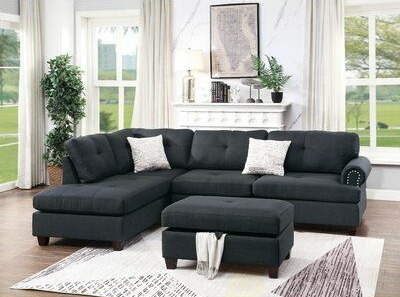 courtesy of wayfair on pinterest
Get Asymmetrical
Placing a rug asymmetrically under your sectional sofa can create the illusion of more space, especially in a small room. It provides a way for you to use a smaller rug and cover less floor space or fit within a smaller budget.
To execute this style, place it off-centered under one end of the sectional. You can anchor the rug further by adding a small side table if you prefer.

courtesy of wayfair on pinterest
Decorate Diagonally
Diagonal placement enables your living room to become part of the next room even if you don't have an open floor plan. Angle the rug under the sectional so that one short end is under the middle portion of your sectional.
Next, have the other end point to the room or space connected to the living area. The diagonal line you've now established directs the eye and the traffic pattern so your two adjoining spaces flow together.
Now it's your turn
The rug and sectional combination is a great fit for any living room. Who knew you could get so creative with only two pieces of furniture? If you found any of these tips helpful while styling your own living room, let us know which combination you used in the comments below.