How To Choose The Right Lamp For Your Bedroom
In the dark about bedroom lighting?
No worries.
Choosing the wrong size lamp — usually, one that's too small for your nightstand — is one of the most common bedroom decorating mistakes.
To avoid this and other decor faux pas, our team has put together this guide to choosing the best lamp for your bedroom.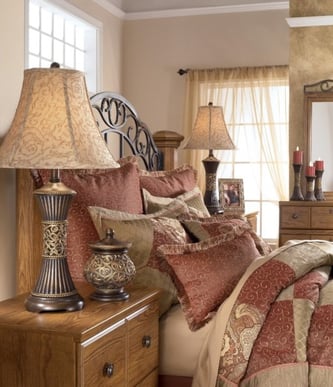 Dimensions of Lighting
Lamp Height
Nowhere is lamp height more crucial than in the bedroom.
To maintain continuity, strive to have each lamp within similar heights.
If you're a bedtime reader like me, the height of your lamp can be the difference between easy reading and annoying after images.

According to Oka.com, the ideal bedside lamp height is 60-60cm (24-27").
Bedside lamps should be proportional to the bedside table, typically 19-21" from the top of the mattress.
This positions the lamp at shoulder height when you're reading, casting light onto the page at eye level.
Lamp Width
Unless you're using wall-mounted lamps, the width of your lamp and its relationship to the size of your nightstand are crucial.
If you have a wide lamp on your nightstand, you'll have no room for books.
Usually, the width of your bedside lamp scales with the width of your mattress.
Stampinfool.com suggests that your nightstand should measure between 1/3rd and 2/3rds the width of your mattress.
The widest part of your lamp (usually the lampshade) should be about 1/3rd the width of the nightstand.
For example, your lamp should be around 30" tall for a King bed, and around 4-7" wide.
Lamp Usage
Lamplab.com states that lighting takes on 3 different roles within your bedroom: ambient lighting, accent lighting, and task lighting.
Ambient Lighting
Ambient lighting is the general environmental light.
In a bedroom, add warm light through soft bulbs and cloth lampshades.
Accent Lighting
Accent lighting serves to highlight specific elements within your bedroom, like a picture or statement piece (opaque shades enhance this effect).
Task Lighting
Finally, bedroom task lighting is usually delegated to reading or desk lamps — cone-shaped lampshades are best for this.
Lamp Quantity
The number of lamps in your bedroom is usually determined by the size of your bedroom.
If you have a large enough space where you can fit a nightstand on either side of the bed, the Spruce suggests a lamp for each stand (bedside lamps are usually bought in pairs).
In contrast, if you have a smaller bedroom, you can get by with just one bedside lamp and a floor lamp across from your bed.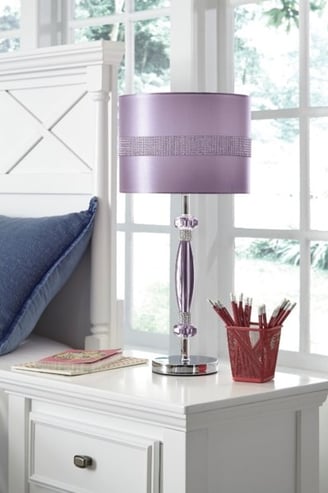 Lamp Types
Accent Lamps
Accent lamps come in many forms.
A small lamp perched on a dresser.
A pair of thin lamps on each side of a chest.
A bold lamp that sets the tone of the room.
These lamps can add a warm, soft light to your space, highlight specific items, or serve as statement pieces themselves.
Bedside Table Lamps
As we mentioned earlier, bedside table lamps should be proportional to the bedside table, typically 19 to 21 inches from the top of the mattress (Kellogcollection.com).
The lampshade should cover the bulb while you're sitting in bed.
For example, a bed with a tall headboard pairs with tall lamps, and vice versa.
The perfect bedside lamp can easily be turned on and off without getting out of bed.
Dresser Lamps
Dresser lamps are a mixed bag.
Since your dresser is taller than your nightstand, your dresser lamp can also be larger than your bedside lamp — yet not necessarily taller — to maintain continuity.
Yet you could stack a smaller lamp on some books as an accent piece.
You can get away with a single larger lamp for your dresser or substitute it for a pair of smaller lamps placed on opposite ends.
Whichever style you choose, ensure the lampshade doesn't hang over the edges of your dresser.
Desk Lamps
Much like your bedside lamp, your desk lamp is influenced by the size of your desk.
If you have a sizable, well-organized desk, a lamp would make a perfect addition.
But, if you have a small desk and need to conserve space, an adjacent floor lamp is a better pairing.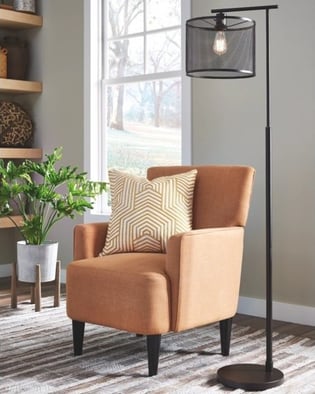 Floor Lamps
Don't have any overhead lighting?
Then floor lamps will serve as your primary light source.
Capable of housing high-wattage bulbs, floor lamps should be twice as tall as your headboard.
They're usually used for tasks or ambient lighting across from your bed, beside a reading chair, or next to a desk.
Pendant Lights
For small bedrooms with even smaller nightstands, pendant lights are an easy way to conserve space.
Eyely.com suggests hanging pendant lamps so that the bottom is at least 16" above the tabletop.
If clear or open pendant designs are too bright, opt for a shaded model or dimmer switches.
Wall Lamps
In small bedrooms with limited space, wall and pendant lamps are expert space savers.
Not only do they add modern style (especially with a low headboard), but they reduce nightstand clutter and are great for reading.
The versatility of adjustable swing arm lamps is perfect for both task and ambient bedroom lighting (Lampsplus.com.)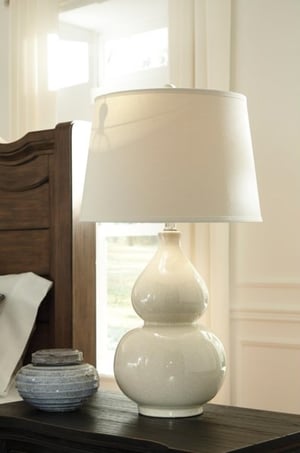 Picking A Lampshade
Shade Size
Your lampshade should be 2/3rds the height of the lamp body from bottom to lightbulb base and twice as wide as the base.
That said, if you have a thin lamp, choose a shade that's as wide as it is tall (drum shades are perfect for this).
If you buy a lamp without a shade, measure the harp and add an inch or two for the minimum height of your shade.
Your goal is to leave 2-3 inches of space between your bulb and the shade.
Shade Shape
If you're using your lamp for ambient lighting, pick a shade that has a regular diameter.
According to Fine Home Lamps, conical and bell lampshades best serve task lighting for pre-sleep reading, and traditional style lamps.
In contrast, drum shades pair best with modern and contemporary designs.
Shade Color
White or off-white shades let the most light through, perfect for warm ambient lighting.
Colored shades provide a stark contrast to the light the lamp produces, making them ideal for moody accent lighting.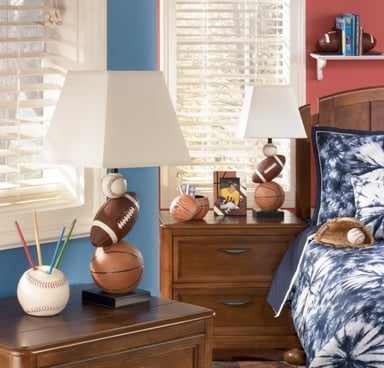 Styling Your Lamp
Lamp Style
Lamps are great decorative pieces in their own right, and the right look can help tie a room together.
Metallic lamps contrast nicely with wooden elements and glass tables.
Bold, multicolor statement pieces can visually anchor your space as long as they are cohesive with the rest of the room.
Add a cotton or silk shade to spill soft light throughout the room.
Mix, Match, and Coordination
As we've mentioned in How To Mix And Match Bedroom Furniture and How To Arrange Plants In Your Living Room, to mix and match items, you must maintain common qualities throughout.
For lamps, that translates to similarities in color, texture, or material of shades or bases with other items in your room.
You can iterate on this idea by keeping identical reading lamps with differing bedside tables.
Lights Off
There you have it, how to choose the right lamp for your bedroom.
Hopefully, we've given you several bright ideas for decorating your space.
Whether you're doing some nighttime reading, early morning writing, or rifling through your dresser, the right lighting can make a big difference.
If this guide helped you choose a lamp for your bedroom, take a picture and tag us at @NortheastFactoryDirect