How To Style Glass Kitchen Cabinets
Wait, you have to style glass kitchen cabinets?
Well, of course you do!
You can't just toss plates and bowls willy nilly when they're exposed for the entire world to see.
In fact, you might just want the inside of your cabinets to look nice.
If that's the case, then our guide on how to style glass kitchen cabinets will help you turn your dishware into a valuable part of your decor.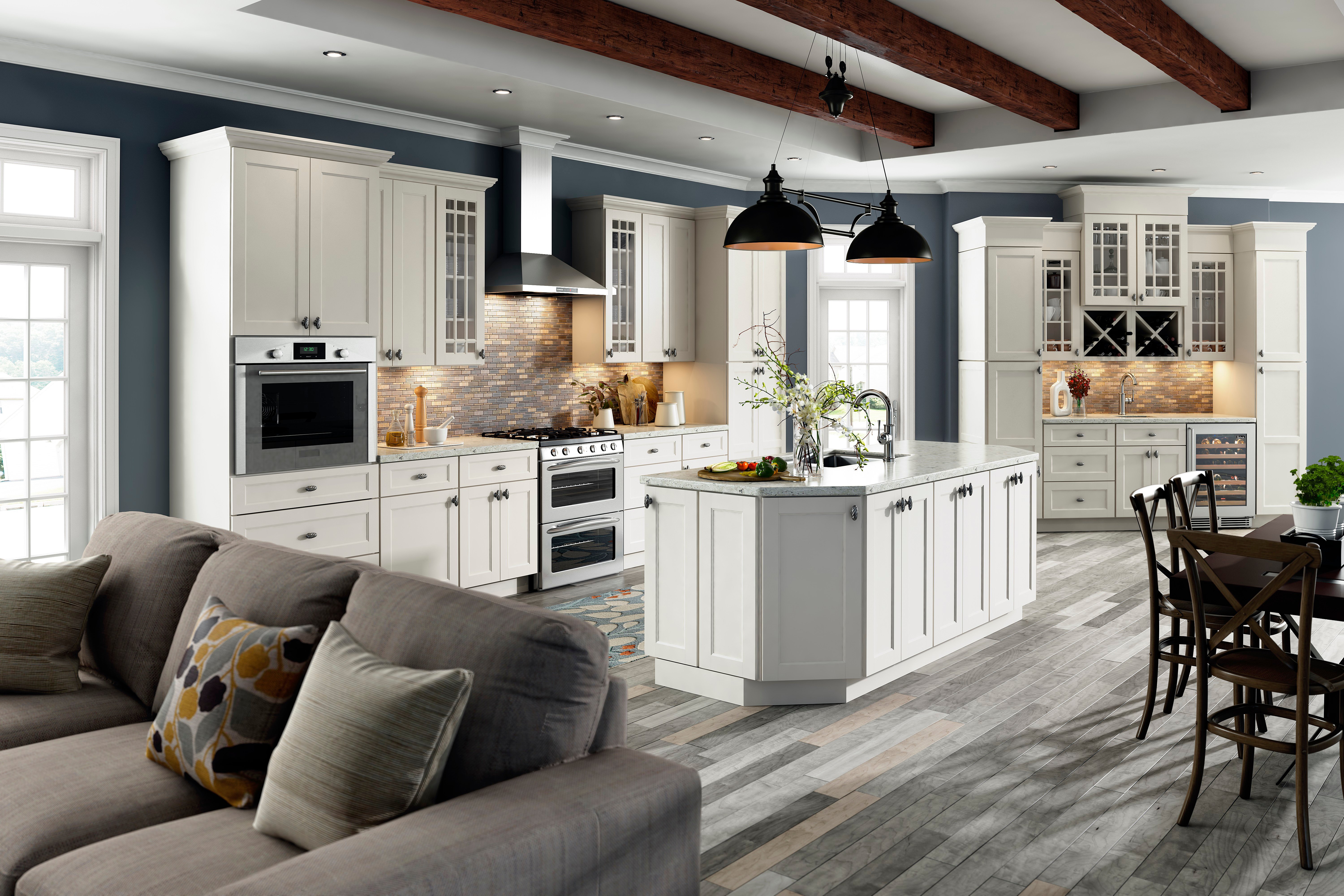 Cabinet Design
Glass kitchen cabinets come in a variety of designs and styles.
You can use these elements to guide other aspects of your kitchen decor.
Cabinet Colors
We've talked about decorating kitchens and kitchen cabinets at length.
One thing we always emphasize is maintaining visual consistency.
You're free to mix and match different colors, materials, and textures, as long as each piece shares a common element (like white wooden cabinets and white ceramic bowls).
This way, items don't have to be identical, but they don't feel disjointed.
Easy right?
If you have white cabinets, sanctuaryhomedecor.com suggests filling them with white or off-white kitchen wear, especially during the spring and summer months.
But If you have colorful notes throughout your kitchen, try incorporating them into your dishware.
For example, if you have blue curtains, populate your glass paneled kitchen cabinets with some white and blue dishware.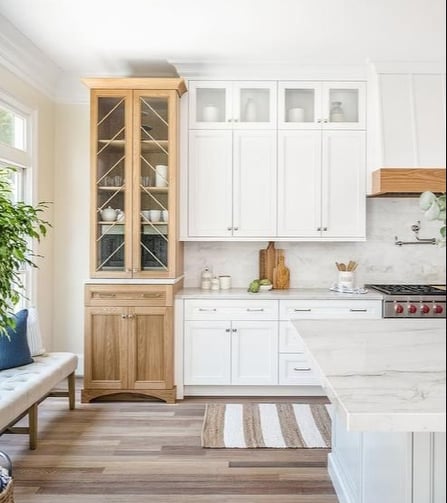 Courtesy of decorpad.com on Pinterest
Style of Glass
The glass panels themselves are also a decorative opportunity.
Seeded glass is less transparent than standard glass panels and has a lovely handmade quality that adds some texture to your kitchen while reflecting light around your space.
Likewise, ribbed glass is more obscure than seeded or wavy glass.
These options put your cabinet interior items to the background, giving the rest of your kitchen more room to shine.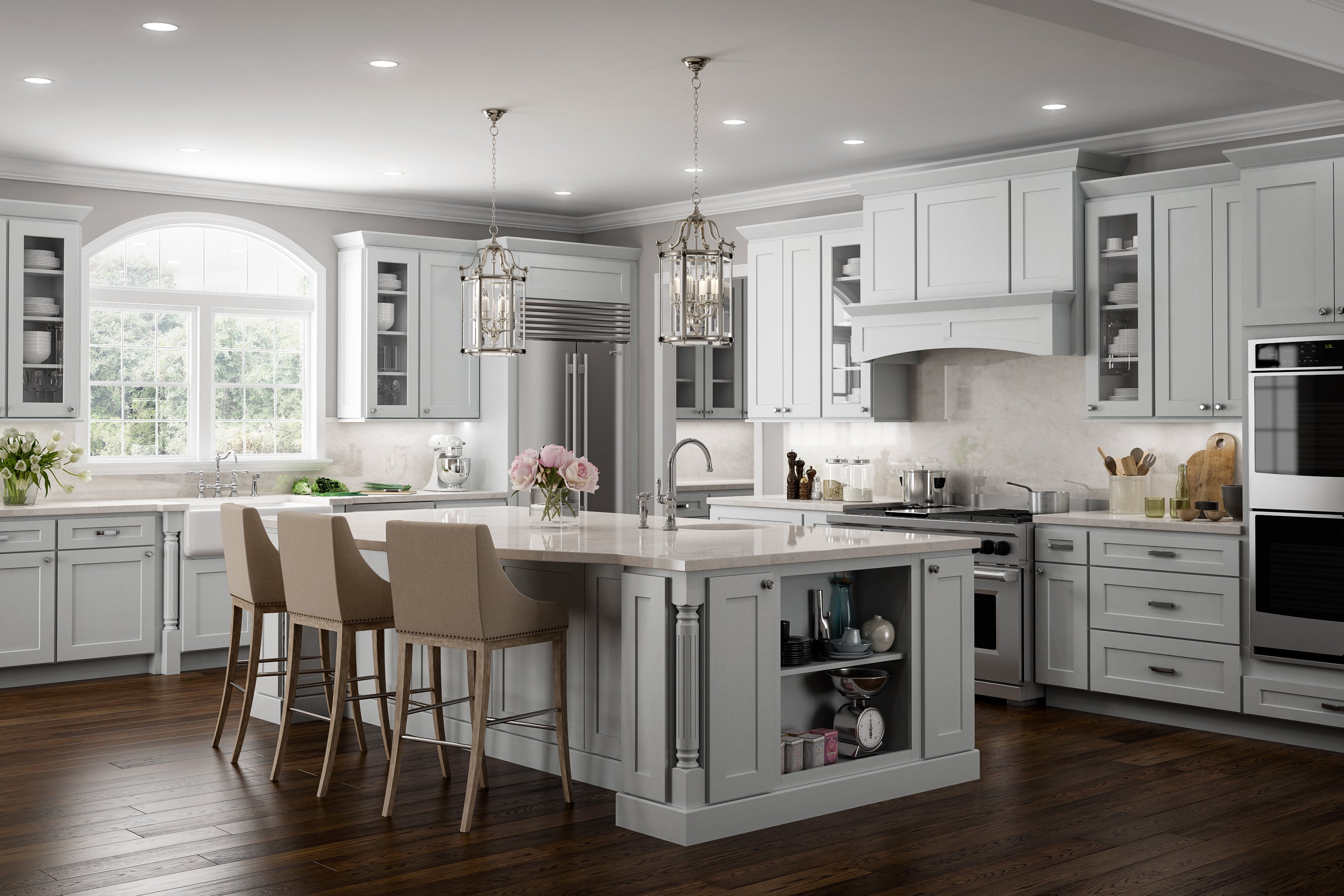 Cabinet Contents
According to carlaaston.com, most kitchens aren't looking for the dishes to be the star of the room.
They're usually tucked neatly away behind solid wood cabinets (assuming you're tidier than I am).
Glass panel kitchen cabinets, however, create a unique opportunity for you to bring your dish and kitchenware to the forefront of your kitchen decor.
This decor can include any of the following:
Dishes
Coffee Mugs, Tea Cups
Tupperware
Bowls
Large Jugs
Clear containers (for coffee and cereal)
Baking utensils
Cook Books
Cake Stands
Plants
Picture frames
Pedestals
Large Mixers
That's right, Tupperware. Your dish and kitchenware don't have to be fancy (but it does have to be clean).
They don't even have to match. You can have imperfect plates of different sizes on display.
Coldwellbanker.com suggests that when organizing dishes of different sizes, keep them in the same color family while mixing in some white.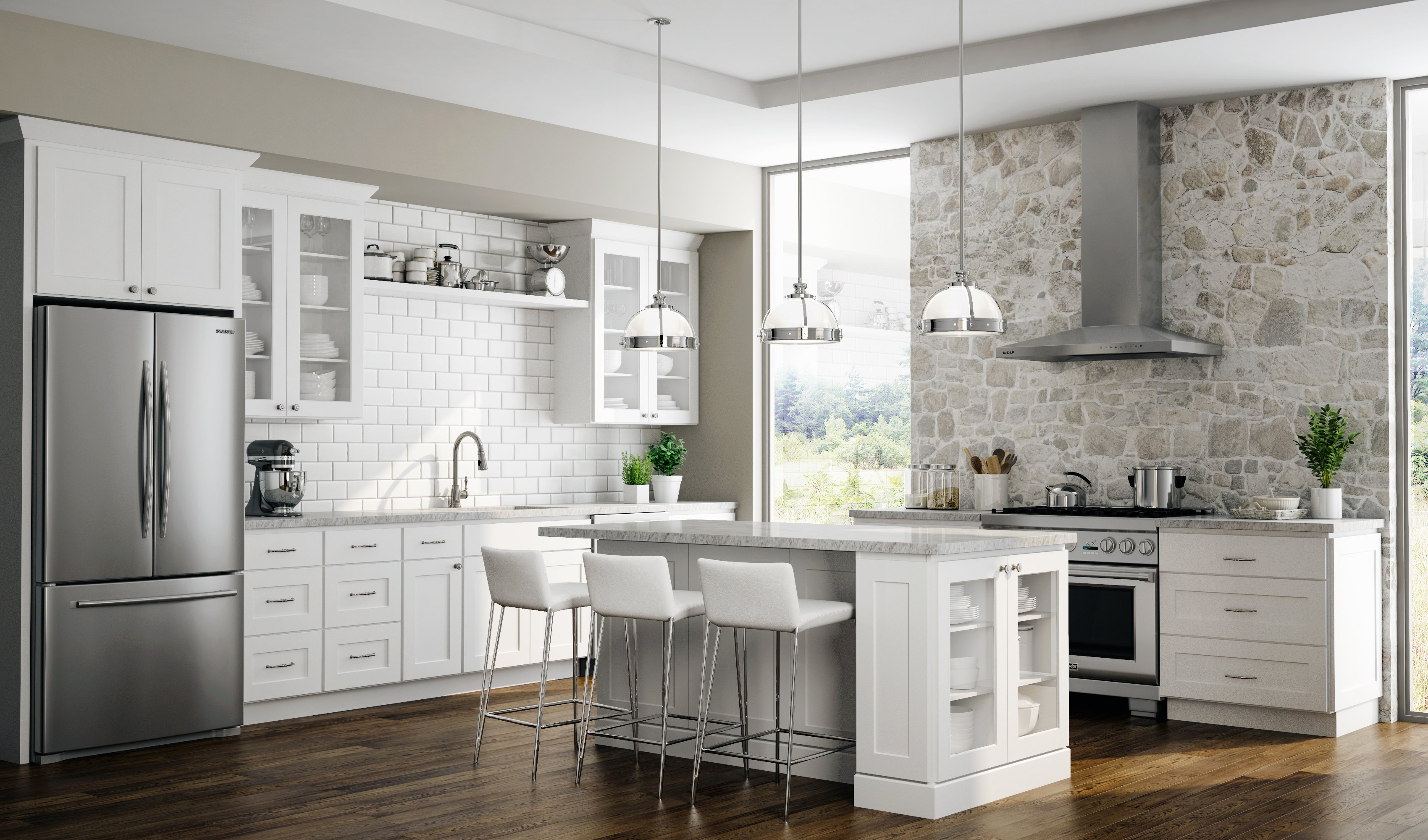 Cabinet Organization
We've discussed cabinet organization before, and the rules are the same for glass kitchen cabinets.
There are, however, exceptions to those rules.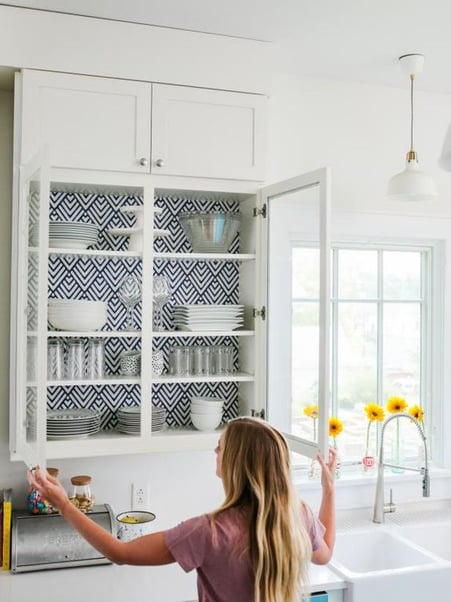 Courtesy of hgtv.com on Pinterest
Stack your dishes
When in doubt, stack your dishes.
They don't have to be perfect; mugs and bowls can be crooked.
You can stack bowls and plates on top of cookbooks, adding height, color, and visual weight to your cabinets.
Alternatively, you can stack a decorative bowl or jug on top of your dishes to create visual contrast.
Or, stack a few dishes vertically against the back wall of the cabinet and arrange the rest in varying heights.
Want that vertical plate look but you don't have a built-in plate rack?
You can paint a wooden plate rack to match your cabinet and set it inside.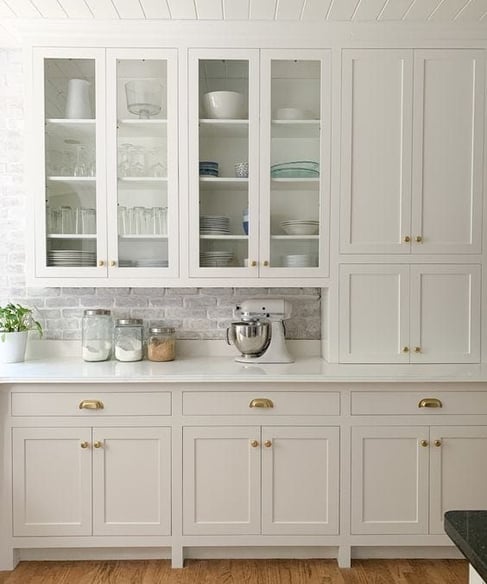 Courtesy of lilyanncabinets.com on Pinterest
Divide Your Cabinets Into Columns
With Glass Panel kitchen cabinets, visual balance inside the cabinets is crucial.
Too many large items or clusters of smaller pieces placed on one side will make your cabinets look off-balanced.
One of the best ways to maintain visual balance while also staying organized is by dividing your cabinets into two columns.
Then, alternate between filling each section with 1, 2, or 3 items at a time.
You can even reserve an entire shelf for one type of item.
Try placing mugs and wine glasses on one shelf and housing dishes on the one below them.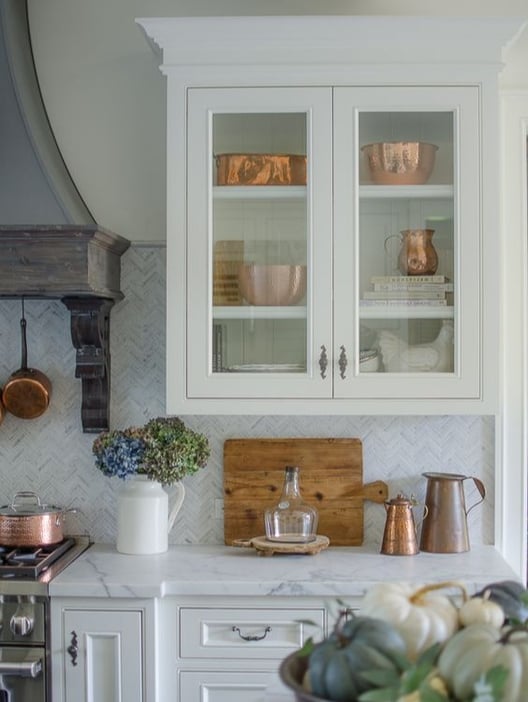 Courtesy of sanctuaryhomedecor.com on Pinterest
Place With Purpose
While it's tempting to fill your glass panel cabinets with a wealth of items to display, you don't want to overpack them.
It's easy for a crowded cabinet to look messy, and with your glass paneling, you have nowhere to hide it.
When organizing kitchen cabinets, the common practice is to keep the items you use the most within reach.
The less frequently used and purely decorative items go on higher shelves that see less traffic.
Bonus Tip: You can keep your cabinet interior tidy and safe from water rings by using a clear, plastic shelf liner.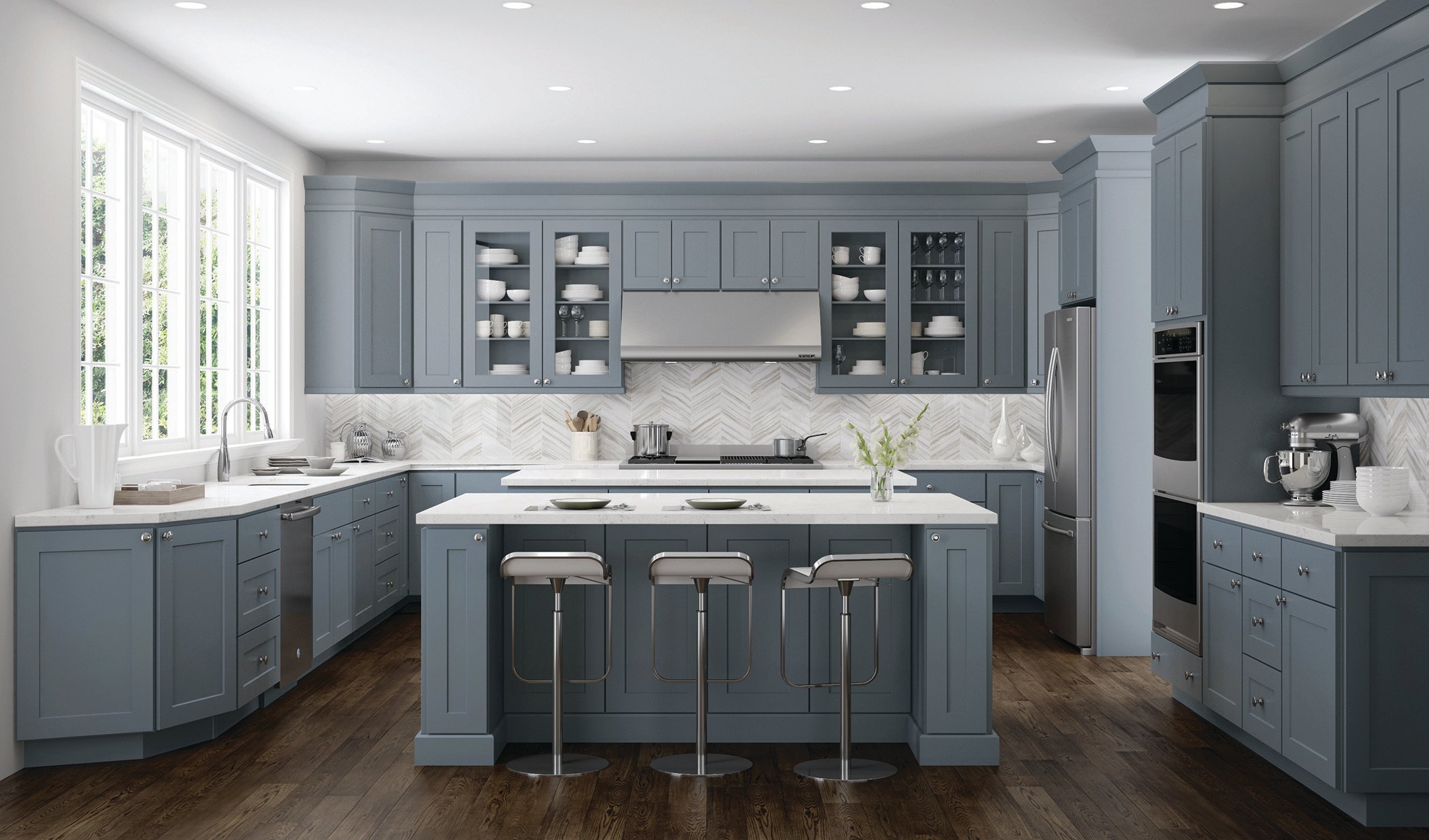 Now It's Your Turn
Styling glass kitchen cabinets can be intimidating.
It's a space most people aren't used to decorating.
Hopefully, our guide has made you more confident in taking on this project.
Leave a comment letting us know which tip helped you the most.